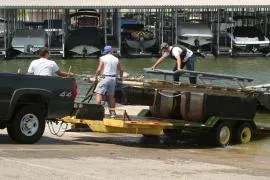 Courtesy Missouri Department of Conservation
Bad news! Agents remove a guy's boatlift that had an invasive species attached to it.
Silver carp
.
Emerald ash borers
.
Zebra mussels
. Missouri's got all kinds of "invasive species," not native to our state, that wreak havoc on our ecosystem.
Now the state is
fighting back
: For the first time ever, a citizen has been prosecuted for violating the law against transporting an "invasive species" within Missouri's borders -- and the judge meted out the maximum punishment allowed.
David Wayne Frazier
, a 51-year-old from Independence, recently pleaded guilty to the offense of improperly moving his boat lift in 2009 from the Lake of the Ozarks to Smithville Lake while it had zebra mussels attached to it.
When staff from Missouri Department of Conservation and U.S. Corps of Engineers found out last summer, they had to decontaminate the lake with a copper-based algae killer.
Judge Janet Sutton
of Clay County slapped Frazier with a $1,000 fine and six months probation for his careless ways -- perhaps to serve as a lesson to others?