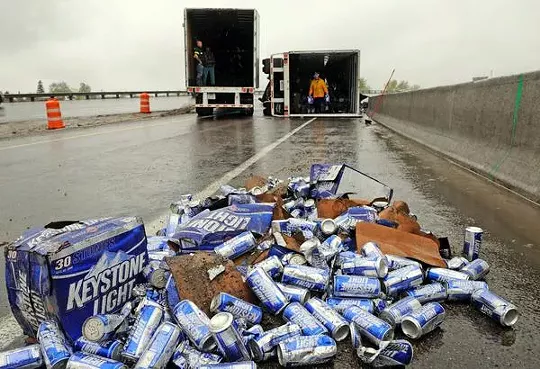 A tractor-trailer carrying 36,000 pounds of alcohol overturned yesterday evening on Interstate 255 near Dupo, Illinois, shutting down the highway for several hours while crews worked to keep the intoxicating mess from spilling onto the roadways.

Sadly, though, this was no felicitous accident for boozehounds -- unless you do your drinking Kitty Dukakis style.

The
Belleville News-Democrat
reports that the
alcohol in question was rubbing alcohol
-- meaning not only was there no party in sight, but that the situation could have gotten dangerous without haz-mat precautions. Rubbing alcohol is highly flammable -- had it escaped into the street, Dupo could have been up in flames.
Here's the good news,
via the News-Democrat
:
The St. Clair County hazardous materials team was called to the scene after it was discovered the tractor-trailer was hauling 36,000 pounds of the highly flammable substance, Cooper and St. Clair County Emergency Management Agency Director Randy Lay said.

There have been no indications that the substance has leaked, and the situation is not posing any threat to the surrounding community, Miller said.
The trailer overturned around 7:30 p.m., and the roadway was shut for a few hours. The driver was taken to the hospital; no word on the cause of the accident.