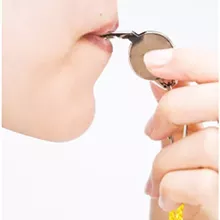 Margart Owens claims she got fired for blowing the whistle on a colleague.
UPDATED AT 3:19 p.m. with police response.
Margart Lin Owens, a 25-year veteran of the St. Louis Metropolitan Police Department's crime lab, has filed a whistleblower lawsuit, claiming she was unfairly terminated after complaining about a colleague's mistakes.

Owens alleges that she twice identified "material errors" that a fellow chemist made regarding tablets that police officers had submitted as evidence to be tested. In both instances, she claims, her colleague failed to detect the presence of 1-benzylpiperazine, or BZP, a controlled substance similar to amphetamines.

When Owens informed her superiors about the mistakes, they failed to take action against the other worker -- and, in fact, issued an "action form" making it clear the drugs would not be retested.


One year later, according to the lawsuit, Owens was suspended. She was told that she was being "investigated" for making false claims against her colleague -- the woman she'd reported for missing the presence of BZP in evidence samples.

In her whistleblower suit, filed by attorneys W. Bevis Schock and Hugh A. Eastwood of St. Louis, Owens acknowledges that her supervisor had informed her around that same time that she'd be written up for "insubordination" -- allegedly, she was "disrespectful and insubordinate by having successfully worked on numerous drug cases and an unsolved homicide/arson case, and not prioritizing drug cases," as she'd apparently been instructed. No word on why she was given such an instruction.

Reached for comment, Schock told us, "This is a very important case for the future of our city." He declined further comment at this time.

The police department sent us a lengthy prepared statement in response. Here's what they had to say:
Since this involves a personnel matter, the Metropolitan Police Department is precluded from discussing the basis of these false allegations. However, it should be well-noted that the Metropolitan Police Department will vigorously defend against anyone's efforts to tarnish the reputation of our Forensic Crime Laboratory. The department's Forensic Crime Laboratory is among the most highly esteemed crime labs in the state. Our scientists are well-trained and operate under a strict code of ethics and our lab is accredited by ASCLD-Lab (the American Society of Crime Laboratory Directors Laboratory Accreditation Board). Our lab has also successfully undergone recent routine audits, including one performed by the FBI.

When these allegations were first brought to our attention, the analyses in question were evaluated internally by several different supervisors. Each internal evaluation found that the analyses had been performed properly and that the initial findings were indeed correct. Though the department's Forensic Crime Laboratory supervisors are among the most highly respected forensic scientists in the metropolitan area, we voluntarily chose to send the analyses in question to another Missouri Forensic Crime Laboratory for independent review. In addition, we asked that lab to also evaluate an even larger sampling of cases to ensure accuracy in those analyses as well. Their independent review concluded each of the analyses had indeed been performed properly. The evaluations conducted by our own staff as well as a second, independent lab, clearly show that the allegations of improprieties are unfounded.

Since this is a pending matter involving litigation that we intend to fight in court, we are unable to comment any further.
Interestingly, Owens' suit notes that "other local labs were...commonly seeing BZP cases" at the time that her colleague failed to detect it. We have to wonder if these designer drugs are going to be the next big "thing" in St. Louis now that so-called bath salts are going to be much harder to obtain.

h/t to www.courthousenews.com, which first spotted the lawsuit.