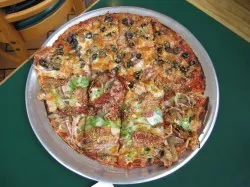 C'mon, officer. It's not that bad.
Not gonna make a Provel joke here. It's gonna be hard, but we won't stoop to that level.
Yesterday evening, a police officer who'd been working security at the Schnuck's on Union Boulevard stopped at a nearby Imo's for some pizza. He adjusted his gun -- and
shot himself in the leg
, the
Post-Dispatch
reports.
The officer, whose name hasn't been released, was treated and released for the self-inflicted cap-pop.
No word on whether he shot himself before or after eating his crackery, rubbery delight.