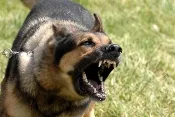 Mommy, can I go pet the doggie?
Training your pet canine to become an attack dog to protect your home is one thing. But teaching unleashed dogs how to charge and bite humans in an outdoor space where mothers wheel their baby carriages, well ... maybe not so much.
That's the message being sent by Alderman Antonio French, who last week introduced a bill to make it illegal for people to conduct "attack training" classes for dogs in public parks without a permit.
According to French, a handful of entrepreneurs are raking in money by offering such classes in public parks on the city's north side. In O'Fallon Park, which is the city's third-largest, there are sometimes up to 40 dogs being taught to attack on Sunday mornings, despite the presence of joggers, families and picnickers, says French.
"You have senior-citizen joggers and mothers pushing baby strollers having to go through 30 dogs," French tells Daily RFT.
When the trainers do get approached by police, they lie about their business, says French. "They claim that they're operating a club and aren't making any money."
But that's malarkey, says the alderman. "It's a nice little hustle," he says. The trainers, he says, even wear protective gear so that when the charging dogs pounce and bite them, no one gets hurt. (The other parkgoers, presumably, aren't offered similar protections.)
The bill would require trainers to hold a permit. It would also ban them from teaching classes within 1,000 feet of any playground, jogging trail, athletic field, swimming pool or basketball court.
French says there are a handful of attack trainers operating in the city's north-side parks, though he can't provide their names. He also acknowledges that, up till now, no one has been hurt by the classes.
We placed calls to the director of the Department of Parks, Recreation and Forestry and the commissioner of the parks division for further perspective; we'll update you if we learn more.
The issue has become a point of contention between French and the police department; The alderman, who represents Ward 21, which contains both O'Fallon and Fairground parks, worries that the root of the issue has less to do with dogs and safety and more to do with north-side neglect.
"I said to the chief (Daniel Isom), imagine if these guys set up shop in Forest Park, right next to the art museum," he says. "I'm pretty sure they'd figure out how to move them.
"If this was in other folks' parks, it would be a different response," French adds. "I think these trainers keep coming to north-side parks because we don't have the park rangers or the same level of police."