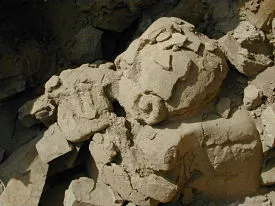 courtesy MU News Bureau
This is a sculpture of a trumpet player. Really.
Remember all the fuss over the "new" astrological sign Ophiuchus a few months back? It may have nothing on the fox, a key figure in the Andean zodiac.
On a recent dig in the Andes Mountains, about 30 miles north of Lima, Peru, University of Missouri anthropology professor emeritus Robert Benfer discovered a 4,000-year-old mud plaster bust of a figure blowing a trumpet, which, along with another mask-like figure flanked by foxes, may give anthropologists some insight into ancient Andean religious and agricultural rites.
As an extra bonus, if the trumpet-blower is as old as Benfer thinks it is, it's the oldest statue ever found in the Western Hemisphere, which gives Benfer -- and Mizzou -- significant bragging rights.
"This is really the find of a lifetime," Benfer said in a press release.
In ancient Andean mythology, the fox was considered the bringer of cultivated food. According to one legend, the fox found a rope to heaven, where it discovered a whole cache of crops. When it fell back to earth, it brought the food with it.
Because of this, Benfer explains, the sign of the fox in the Andean zodiac is still tied to planting and irrigation.
All of which explains the presence of the fox reliefs at the site, called Buena Vista, which Benfer believes served as a temple.
The two female foxes on either side of the evil-looking disk face toward the setting sun of the summer solstice which, along with their crescent moon-shaped eyes, indicate gathering darkness. On another relief sculpture opposite, a male fox with sun-shaped eyes is looking toward the rising sun of the winter solstice.
"Anthropologists think that many of our beliefs today stem from ancient beliefs, but only occasionally can these beliefs be confirmed," Benfer said. "This is one of those times. Myths and symbols are reused and recycled in different ways, but the lessons remain the same. The Andean people couldn't read; yet, the fox story survives and is at least as old as the horoscopes many people read today. The story depicted in the statuary symbolizes the basic opposition between the sun and the moon, male and female, day and night, good and evil."
The three-dimensional statue doesn't appear to have such grave mythological significance -- Benfer thinks it represents a horn player announcing the entrance of the priests to the temple -- but, hey, it's really, really old.
Along with Louanna Furbee, a MU professor emeritus of Linguistic Anthropology, and Hugo Ludeña, of the National University of Federico Villarreal of Perú, Benfer has written a paper about his findings, which will be published in an upcoming issue of Journal of Cosmology.