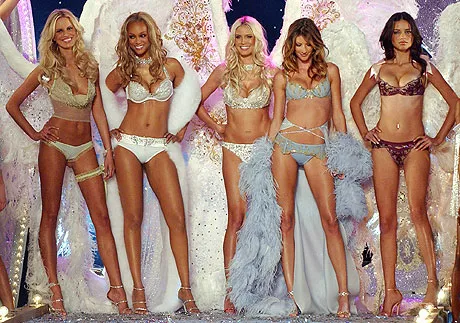 Victoria's Secret: It's all sexy angelic fun -- until some crazy nine-month-pregnant customer starts beating on the store manager.
It's not every day, surely, that Victoria's Secret has to call the police over a customer who's responded violently to the store's return policy.
And it's not every day, either, that the store has to call for an ambulance after a customer's water breaks.
But that's just what happened at the Victoria's Secret at the St. Louis Galleria Mall last month -- and, unbelievably, it was the same customer on the very same day. Seriously, pregnant lady?!?
Detective Sergeant Doug Schaeffler of the Richmond Heights Police Department confirms to Daily
RFT
that his department responded to a call from the Victoria's Secret shop at the Galleria on April 30. The suspect, a heavily pregnant 37-year-old woman, had allegedly
assaulted a store manager
.
But at some point during the arrest -- perhaps, as we like to imagine, as the officers pulled the screaming preggers woman off the poor store manager, who was only trying to
do her job
-- the suspect's water broke.
Goodbye, cop car; hello, ambulance!
Schaeffler was not able to give us much info about what happened next, for all the usual reasons. (Thank you,
HIPAA
, for thwarting journalists whose only goal is to serve the public with these oh-so-important details!) But he was able to confirm that the Richmond Heights PD forwarded the case to the municipal prosecutor's office for its review; if charged with simple assault, Mommy Dearest could be looking at both a fine and jail time.
That's not to say anyone was wounded in the attack.
"We're talking about a minor altercation between the clerk and a suspect," Schaeffler says. "It's a very basic crime."
So they probably deal with stuff like this every day at the Galleria, right?
"Well, not the water breaking," Schaeffler says. And for the sake of all the unborn children out there in the St. Louis suburbs, we can't tell you how happy that makes us.
h/t to the Clayton/Richmond Heights Patch, which first mentioned the item in its police blotter.