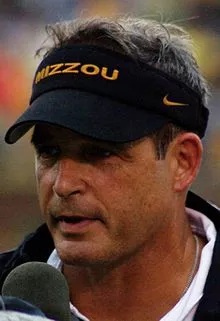 InsideSTL.com has a fun little list up this week recalling the greatest University of Missouri football victories under Gary Pinkel.
For those who grew up in the '80s and '90s (when Mizzou replaced football coaches as frequently as you and I change toothbrushes), it's hard to believe that Pinkel has been around for a decade now.
In so doing, the coach has compiled a very respectable 77-49 win/loss ratio. Here, then, are what
InsideSTL.com ranks as Pinkel's best
W's:
5. Missouri 38, South Carolina 31--December 30, 2005
4. Missouri 41, Nebraska 6--October 6, 2007
3. Missouri 41, Nebraska 24--October 11, 2003
2. Missouri 36, Oklahoma 27--October 23, 2010
1. Missouri 36, Kansas 28--November 24, 2007
You can read the explanation for those choices over at
InsideSTL.com
. I have to say I agree with all five, though I'd perhaps replace No. 4 with Brad Smith's debut at quarterback on August 31, 2002.
That game was the first of Mizzou's "Arch Rivalry" series with Illinois at the Edward Jones Dome, and Smith gave Missouri a glimmer of things to come in a dazzling 33-20 victory over the Illini. Although Mizzou finished 2002 with a 5-7 record, that game -- and the rest of the '02 season -- was the beginning of the turnaround for MU.