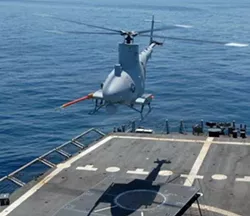 You know about the drone airplanes used in the wars in Iraq and Afghanistan, but did you know that the U.S. military also has drone helicopters?
The Navy currently has several Fire Scout helicopters aboard its warships overseas and plans to soon add a total of 168 of the remote-controlled aircraft to its fleet. Manufactured by Northrop Grumman, the Fire Scout can venture as far as 125 miles from the deck of the ship, climb 20,000 vertical feet and reach a top speed of around 125 mph.
The copters are currently being used in Afghanistan and to patrol for pirates off the coast of Somalia. Below is a video of the aircraft, courtesy of the
Wall Street Journal
.
<