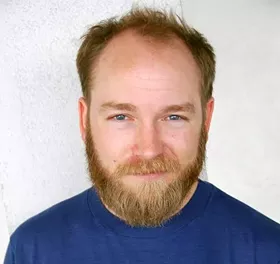 Stand-Up Kyle Kinane, pre-poison oak
Bellowing out his gravelly goofball musings onstage, comedian Kyle Kinane doesn't always sound at ease. But when this native of the Chicago suburbs arrives at the Firebird on Wednesday night, he'll be feeling even more uncomfortable than usual...
Daily RFT
:
What's this we hear about your recent run-in with poison oak?
Kyle Kinane
: I was on a mountain bike ride, because I'm pretty radical. And I saw this snake. So I went off the trail -- well, it could've been a rattler! I looked it up. That's a very dangerous snake.
So I locked up the brakes and went over the bars down the side of this hill. Which, to keep to keep from sliding down the hill, I had to grab onto all the plants around me. Which turned out to be a
sea
of poison oak.
How long did it take to get truly awful?
The worst point was about two weeks into it, where my legs looked like tree bark with sap oozing out. It was
real
gross. I had to go to
Wal-Mart
at midnight to get pajama bottoms so I wouldn't stick to my friend's couch.
And I looked like this grotesque weirdo at Wal-Mart with gooey legs, which -- I don't know if anybody has ever been conscious of the fact that they were the creepiest guy at Wal-Mart. But I'm not gonna judge people anymore. Who knows who is just a victim of exceptional circumstance?
You grew up outside of Chicago, but moved to L.A. in 2003. Which is better: Midwest or West Coast?
I never understood why people have to like something better. Why can't you just like a lot of stuff? That's why I'm not a big sports fan. I never understood feuds. What if you just like baseball? What if you just like the game? Can't you just appreciate the athletic effort? That's a pretty crappy answer to your question.
Well, it was a crappy question.
I appreciate your honesty.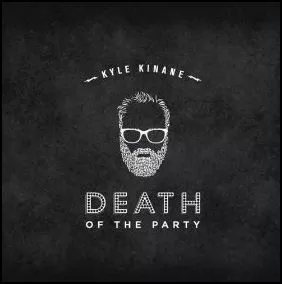 Cover of Kyle Kinane's debut CD
The
London Evening Standard
has called you "misanthropic," which I found odd, because a lot of your jokes - on your recent CD,
Death of the Party
, for example - are not aimed at others, but at yourself.
Yeah, it's usually introspective. There's nothing worse than seeing a political comedian with a knee-jerk political reaction. It's like, 'What the hell do YOU know? What do you know about how politics really work? You're just sitting here, from the sidelines, making jokes.'
The only thing I know in and out is myself. So that's the only thing I can be an authority on and make fun of.
But there's nothing worse than seeing a comedian saying, 'Let me tell you how the world works.' What the fuck do YOU know about how the world works? Especially if you've escaped all actual responsibility and became a comedian.
Your comedy has also been called "bleak."
There's a stereotype of comedians being depressed. I'll talk about sad things, but that's part of life. It doesn't mean you're depressed if you just get sad once in a while. It's OK. Talk about it. That's why I'm up there, making jokes about it. Because I think it's funny.
Perhaps it's that your delivery on the CD is gruff and angry-seeming.

That was the whiskey bellows on that album. There were definitely some "fueled" statements.
I think I just got an inside scoop!
Yeah...I don't think it's
that
inside [laughs].
Anything else going on?
Trying to maybe do another CD by the end of the year -- but that's speculation. Right now I'm just trying to write new stuff.
How's it going?
Well, when you got 70 percent of your body covered in poison oak, you can get seven or eight minutes out of
that
. So yeah, I'm getting out there, doing embedded journalism: reporting back from the life of a dipshit.
We commend you, sir.

Somebody's gotta do it!