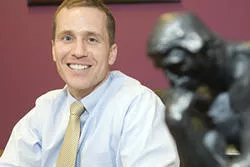 Jennifer Silverberg
Sick of this guy yet?
Here's your weekly St. Louis bestseller list for the week ending May 8, as compiled by the St. Louis Independent Booksellers Alliance and based on sales at Left Bank Books, Main Street Books, Pudd'nhead Books, Subterranean Books and Sue's News.
St. Louisans once again top both the adult and children's bestseller lists. Amy E. Sklansky's You Are My Little Cupcake holds onto the no. 1 slot on the children's list, while Eric Greitens' The Heart and the Fist: The Education of a Humanitarian, the Making of a Navy Seal took back the no. 1 spot on the adult list from Tina Fey's Bossypants. (The Heart and the Fist was reviewed in the New York Times this past week; though chief book critic Michiko Kakutani was lukewarm about it, it does prove that Greitens is more than just a hometown hero.)
This sales period encompassed Mother's Day, so it's interesting that Two Kisses for Maddie by Matt Logelin, in which the mother dies in childbirth, outsold Mom: A Celebration of Mothers from StoryCorps, the latest compilation from Dave Isay's amazing oral history project.
Full lists after the jump.
Adult:
1. The Heart and the Fist: The Education of a Humanitarian, the Making of a Navy Seal by Eric Greitens 2. The Help by Kathryn Stockett 3. Bossypants by Tina Fey 4. Iron Butterfly: Memoir of a Martial Arts Master: The True Story of a Mermaid's Daughter by Choon-Ok Harmon 5. Water for Elephants by Sara Gruen 6. A Visit From the Goon Squad by Jennifer Egan 7. Caleb's Crossing by Geraldine Brooks 8. Two Kisses for Maddie by Matt Logelin 9. Tangled Webs by James Stewart 10. Mom: A Celebration of Mothers from StoryCorps by Dave Isay
Children's/YA:
1. You Are My Little Cupcake by Amy E. Sklansky 2. Throne of Fire: The Kane Chronicles, Book 2 by Rick Riordan 3. My Daddy and Me by Amy E. Sklansky 4. The Book Thief by Marcus Zusack 5. The Secret History of Mermaids and Creatures of the Deep by Professor Ari Berk 6. Oh, The Places You'll Go! by Dr. Seuss 7. Mayflower and the Pilgrims' New World by Nathaniel Philbrick 8. World's End: The Second Book of Dormia by Jake Halpern 9. Hold Me Closer, Necromancer by Lish McBride 10. Happy Birthday To You! by Dr. Seuss