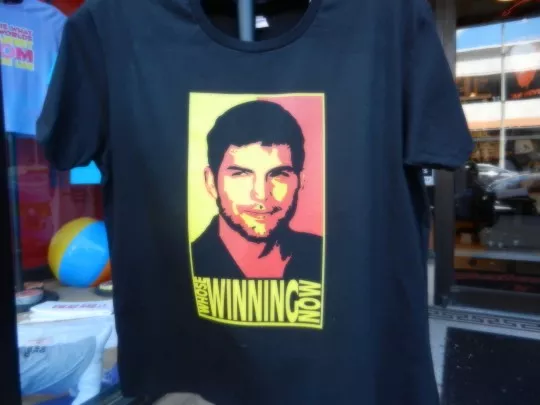 T-shirt says: Charlie Sheen is apparently not "winning" anymore.
Last month,
Baked T's
, the locally owned custom T-shirt shop in the Delmar Loop, did a brisk business selling Charlie Sheen tees inscribed with the erratic star's new catchphrase: winning.
"We sold that one all the time," says Nik Fusco, a graphic designer at the shop. "We sold more of those than any other shirt up there."
But times have changed. With the news that Ashton Kutcher is replacing Sheen on
Two and a Half Men
comes a new tee, this one featuring the man formerly known as Kelso. "Whose Winning Now?" it asks.
We might be tempted to tidy up the grammar on the shirt -- "whose winning now" is a bit clumsier than "who's winning now," although perhaps the sentence merely suggests, rightly, that Kutcher owns the winning nowadays.
But we definitely can't argue with the sentiment. And we can't complain about the speed with which Baked T's made it happen. Graphic designer Ben Stein says they got the shirt printed up and on display yesterday, just two days after Kutcher inked his contract to join the hit sitcom.
And while the designers aren't predicting that the shirt will do as well as the original Sheen one, they suspect there's probably a niche market to be had. "We'll probably sell a few as a backlash on Charlie Sheen," Fusco says. "For the people who didn't want the Charlie Sheen one." Or, perhaps, fair-weather
Two and a Half Men
fans?