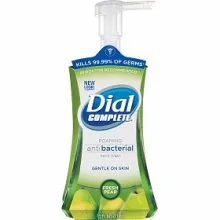 St. Louis woman Michelle Carter alleges that a misleading ad campaign convinced her to give Dial's Complete Foaming Antibacterial Hand Wash a try.
A St. Louis woman filed suit in federal court Friday -- alleging that the Dial Corporation made "false and misleading" claims while selling her its foaming antibacterial hand wash.
Namely, the suit, which hopes to attain class-action status, says that the active ingredient in Dial Complete hand soap, triclosan, has never been shown in a "reliable" study to provide any benefit greater than one achieved by washing with regular soap and water. And, in fact, the suit argues that triclosan belongs in a class of chemicals "suspect of causing cancer in humans." It's been restricted in the European Union, the suit says.
But Dial didn't disclose any of that in ad campaign, argues attorney Eric D. Holland of the downtown law firm Holland, Groves Schneller & Stolze. (Holland filed the suit on behalf of Michelle Carter, who lives in the Lou.)
Instead, the suit alleges, a nationwide marketing campaign claimed that Dial Complete "kills 99.99 percent of germs" and was "the No. 1 doctor-recommended" brand.
Yet any claims about triclosan's efficacy, the suit alleges, are based on a single in-house study. As the attorneys write in the claim,
Contrary to Dial's self-serving research, in connection with a review of 27 studies conducted over the past 30 years, scientists from the University of Michigan, Columbia University and Tufts University, determined (and published in the academic journal Clinical Infectious Diseases), that soaps containing added ingredients such as triclosan in liquid soap and triclocarban in bar soap do not show a benefit above and beyond plain soap in the consumer environment.

The independent scientists concluded that: "The lack of an additional health benefit associated with the use of triclosan-containing consumer soaps over regular soap, coupled with laboratory data demonstrating a potential risk of selecting for drug resistance, warrants further evaluation..."

Dial, which is based in Scottsdale, Arizona, is owned by Henkel North America, a German-owned corporation. That's the same Germany that's a leader in the European Union -- which recently began
prohibiting the use of triclosan in product
s intended to "come into contact with food."
We left messages with Dial and with Holland, the lead attorney on the suit. We'll update this post if we hear back any time soon.