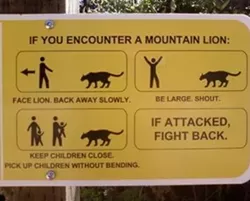 You, too, can survive a mountain lion encounter.
Another mountain lion was confirmed in Missouri this week. The Department of Conservation concluded Wednesday that
paw prints photographed April 20
in Macon County in north-central Missouri were almost surely those of a cougar.
For those keeping score at home, that's the
seventh confirmed mountain lion sighting
in Missouri in as many months. Fortunately, none of those sightings have placed humans in harm's way -- though a few Missouri hunters have
questionably used that as an excuse
to kill the federally protected predators.
That said, given the growing number of cougar sightings, it stands to reason that an unarmed human will someday encounter one of the big cats. So, what to do if you're hiking along the trail and come face-to-face with a mountain lion?
Here's a survival guide, courtesy of the Missouri Department of Conservation:
STOP. Back away slowly if you can do so safely. Running may stimulate a mountain lion's instinct to chase and attack. Face the mountain lion, stand upright and maintain eye contact.

DO NOT APPROACH A MOUNTAIN LION, especially one that is feeding or with kittens. Most mountain lions will try to avoid a confrontation. Give them a way to escape. STAY CALM. Talk to it in a calm, yet firm voice.

DO ALL YOU CAN TO APPEAR LARGER. Raise your arms. Open your jacket if you're wearing one. If you have small children with you, protect them by picking them up so they won't panic and run.

If the mountain lion behaves aggressively, THROW STONES, BRANCHES OR WHATEVER YOU CAN GET YOUR HANDS ON without crouching down or turning your back. Wave your arms slowly and speak firmly. You want to convince the mountain lion that you are not prey and that you may, in fact, be a danger to it.

FIGHT BACK if a mountain lion attacks. Mountain lions have been driven away by prey that fights back. People have fought back successfully with rocks, sticks, caps or jackets, garden tools and bare hands. Remain standing or try to get back up.