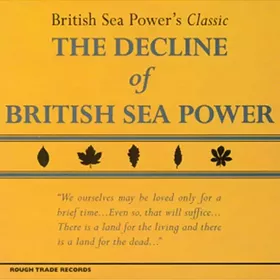 It wouldn't be terrible if Chris Carpenter's decline went along the lines of British Sea Power's. He might not pitch as well anymore, but his records should be markedly better.
I feel like there should really be a question mark in that title somewhere. The Decline of
Chris Carpenter
can't possibly just be a statement. It has to be a query, doesn't it? Problem is, I can't quite figure out where to put it. Should it go at the end? Like, "The Decline of Chris Carpenter?" As in, the whole thing is a question, whether or not Chris Carpenter is, in fact, declining.
Or maybe after decline. "The Decline? of Chris Carpenter." We're clearly seeing something going on with Carpenter, but maybe it's a decline, maybe it isn't. Or maybe put the question mark after The. Sure, it's a decline, but is it really the decline? He could just be taking a small step downward, and not a big permanent one. Maybe put it in between Chris and Carpenter, indicating we could be talking about either the pitcher or standards of craftsmanship in modern construction.
Or then again, maybe the title doesn't need a question mark, since Carpenter himself is supplying us with plenty of them this season.
Carpenter earned his first win of the 2011 season last night, and he deserved it. Not because he pitched particularly well; in fact, if anything he was decidedly mediocre. But considering how many times already this year he's deserved a victory and been screwed out of it by any number of factors (
Ryan Franklin
, I'm looking in your general direction), this was a well-deserved assist to the offense.
On the other hand, Carpenter was once again remarkably hittable, and has been for most of the season. It's not something we've seen before out of Carp. He's really had only two settings since he's been pitching for the Cards: Brilliant and Hurt. Brilliant Carp is the guy we see take the ball every five days and contend for Cy Young awards. Hurt Carp is, well, hurt. No further explanation necessary.
But in 2011, Carpenter has been healthy but just not particularly effective. He gave up 13 hits last night, the highest total of his career. It was the third game in a row he's allowed ten or more hits, and the fifth time in eight starts he's given up at least eight hits. (In fairness, the other three games have been very good, particularly his start against Los Angeles, in which he tossed seven scoreless innings, allowing five hits and not walking a man.) He limited the damage fairly well, as every single one of the hits he allowed was a single. I don't know when the last time a pitcher gave up that many hits without allowing one of the extra-base sort (the Elias Sports Bureau doesn't answer my emails, sadly), but I can't imagine it's the sort of thing that happens very often.
So looking at Carpenter's performance, it certainly feels like he's declining. The question is whether or not he actually is.
Carp's batting average on balls in play for the season is .298, right around average. It's a tad bit high for him, maybe ~20 points, but certainly not out of range. So it isn't as if he's simply been snakebitten with all the hits. He has been a bit unlucky in terms of the longball, so there may be a bit of good news coming in home run terms.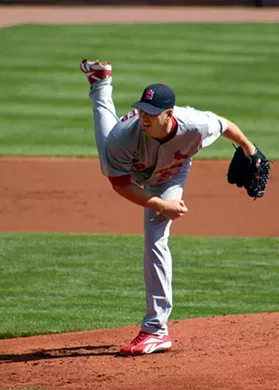 ​His strikeout and walk rates are both right around his career norms. The one number that does jump out is his line drive rate. Carpenter is giving up line drives at a 24.5% clip, well up from his numbers the last couple seasons. He was at 17% or below in both 2009 and '10, so he is definitely giving up more hard contact.
Going on down the list of peripherals, one thing immediately stands out as being a possibility for blame. Carpenter's fastball has been a below-average pitch this season, to the tune of -1.2 runs worth of value so far. That's a far cry from Carp's 2009 season, when his fastball was worth 24.6(!) runs above average, or even last year when it was 9.7 runs better than an average pitch.
Carpenter is still throwing all his pitches at fairly similar rates to the rest of his career (or at least his recent career), so it isn't as if he's changed his pattern of pitching dramatically. His fastball just isn't as good this year as it has been in the past.
The odd thing here is Carp doesn't seem to have really lost any oomph on his heater. His average velocity is almost exactly the same as it was last year, and anecdotally he still has plenty in the way of stuff. The problem doesn't seem to be a downturn in the quality of his stuff, but rather in his ability to control it.
The hypothesis certainly passes the eye test; Carpenter seems to be working from behind the count much more often than in the past, and he's been wild with his fastball just in general. Hitter's counts=predictable pitches=more hits. It's a fairly simple relationship, really.
So what does this all mean for Chris Carpenter? Well, it's tough to say, but looking at all the signs I don't think there's anything here that screams out Done. Usually when pitchers get old they lose their stuff long before their control goes. Carpenter is suffering from the opposite malady: his stuff is still there but his command has been shaky, to say the least. If he's just getting old, then he's doing it in a very odd way.
All of this says to me that Carp is much more likely fighting his release point or his mechanics than he is just entering a steep decline phase. The days of the dominant Chris Carpenter of 2005 and 2009 are likely gone, at least on a consistent basis, but I think there's a long way to go before "The Decline of Chris Carpenter," doesn't require a question mark in there somewhere.