commons.wikimedia.org
Would a trade for Jose Reyes make sense for the Cardinals?
The
New York Mets
are in bad shape financially. Their owners are on the hook for a
Bernie Madoff
-related bundle, and have a portion of the team up for sale in hopes of retaining some sort of solvency. Against such a grim backdrop, the team will likely have to make some very painful, very difficult decisions in the coming months related to players and their salaries.
The name most commonly coming up as a potential salary dump for the Metropolitans is Jose Reyes, and various bits of scuttlebutt here and there have suggested the Cardinals as a possible landing spot for the shortstop. Just how realistic is such a scenario?
Well, first off, projecting Reyes to the Cards makes a ton of sense, at least from a need standpoint. There are teams with bigger needs at shortstop than the Cardinals, certainly, but not a whole lot of them.
Ryan Theriot
has done a decent enough job getting on base out of the leadoff spot, but his .661 OPS isn't exactly all-star material and his defense has left plenty to be desired.
Reyes is a couple years removed now from the days when he was appointed the Most Exciting Player in Baseball by
Joe Morgan
, and has seen tough times since then. Over the course of 2009 and 2010, Reyes played in just 168 games total, dealing with a calf injury in 2009 and a thyroid condition in 2010. His physical issues appear to be behind him now, as he's been healthy since getting his thyroid under control.
So just how much of an upgrade would Reyes be over Theriot? Well, last season, while playing in 133 games and struggling to get out of the gate following a long layoff, Reyes was worth 2.8 wins above replacement. So far in 2011, he's already been worth 1.7 WAR. In 2008, Theriot posted his best professional season, playing in 149 games and putting up a 3.1 WAR. So, Theriot's best season = down year for Reyes. Theriot has been worth at least two wins in a season twice in his career, in 2008 and 2009. Reyes has been worth two wins or more six different times (and is almost there already this year), with a run from 2006-2008 of 5.7, 5.5, and 6.0 WAR.
Consider also the respective ages of the players. Theriot is 31, Reyes is 27. (He'll turn 28 in June.) Four years is a lifetime in baseball years. Reyes is currently OPSing .858, and while that number will likely regress a bit, an .800+ season is most definitely not difficult to imagine.
Suffice to say, Reyes would be a big, big upgrade for the Cardinals. He isn't exactly a walk machine, by any means, but he offers damage with the bat at the top of a lineup Theriot just has no chance of equaling. He's also a marked upgrade on defense, though in fairness to Theriot he shouldn't be
quite
as atrocious as we've seen him be so far in 2011.
So now for the other question. What would it take for the Cardinals to bring Jose Reyes in? He's going to be a hot commodity if he does indeed hit the trade market. He isn't signed beyond this season, so he should be seen strictly as a rental, which will push his value down a bit. Still, he could also bring draft-pick compensation if the Mets chose to keep him and offer arbitration (not a guarantee considering their financial plight), so that goes back on the positive side of the ledger, value-wise.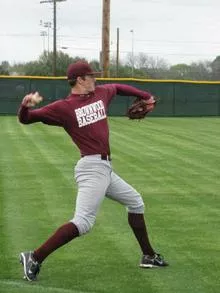 Shelby Miller, (hopefully) untouchable prospect.
​The first name the Mets would ask for in a trade like this is, of course, Shelby Miller. (And really, every team the Cardinals might think about trading with are going to immediately ask about Shelby, who is on his way to being a top five prospect in all of baseball with his performance this season.) Honestly, Miller alone would be more than enough to get the deal done, I'm sure. The more important question is whether or not the Cards would be willing to move Shelby. I'm inclined to say they would not be, and I'm also inclined to say it would be a bad idea to do so. He's simply too valuable, and has too high a ceiling.
So in the absence of Shelby Miller, what would a Jose Reyes package look like? (Considering rewording that sentence...still considering...nope. Gonna leave it.) Creating value from a group of players is a bit more complicated than just handing over one big bullet, but it's ultimately a more common way of accomplishing a trade.
I'm not going to pretend to be an expert on the Mets' farm system, so I don't know exactly what their strengths and/or weaknesses may be, but I do know the Mets are both bad and old right now, and don't currently have the financial capability to fix their team through free agency. They need young players and lots of them.
Going down the value chart from Shelby Miller, Lance Lynn is probably the next pitcher up for the Cards. Lynn doesn't have the kind of sparkle to his game Shelby does, but he should be a solid major league contributor for next to nothing for the next few years. He's even upped his strikeout totals since tinkering with his mechanics and approach last season. I would be perfectly fine with including Lynn in a deal for an impact player, and Reyes certainly fits that bill.
Adding to the near-term pitching value offered by Lynn, how about including some immediate offensive value? Allen Craig has shown he's capable of hitting at the big league level in very limited opportunities, and could offer good value to a team needing some bats without the bank. So Craig goes in the pot.
That's not enough yet. If the Cardinals are acquiring a shortstop, the Mets might want a player capable of filling that hole in the next year or two. Ryan Jackson is currently playing short for the Cards in Double A, and doing so very well. He's hit much more than expected this year, though Springfield's home park makes any offensive numbers put up there subject to skepticism. Still, Jackson's glove has been compared to that of Adam Everett since he was in college, and he should make a contribution with his glove in the next couple season even if his bat never reaches great heights.
So we have a mid-rotation starter type, a defensively limited hitter, and a Double A shortstop with glove to spare. All three offer some definite value for a team in need of cost-controlled contributors. I think you might need to include one more player to get the job done, though any further inclusions would likely be of a lower-impact type. Depending on what the Mets' needs are, a guy like Adron Chambers, a speedy center fielder playing in Memphis, could interest them. Or, possibly, one of the Cards' current youngsters in the infield, Daniel Descalso or Tyler Greene. Neither are huge upside players, but both have some big league experience and could help fill in the gaps for New York in the near term. I would be willing to include either of the two, with Greene probably slightly more desirable due to his ability to play shortstop.
Lance Lynn, Allen Craig, Ryan Jackson, and Tyler Greene. Or maybe swap out Jackson for Chambers to give a bit more variety. Either way. The Cardinals would get potentially one of the better shortstops in the game when healthy, the Mets would get a haul of youngsters to fill in a lot of positions they won't be able to buy solutions for immediately.
For me, four players, all of whom are cost-controlled, is a mighty steep price to pay for a rental player. I would be much more comfortable giving up three of those player instead of four, but it just might be worth it.
There is a downside here. The Cardinals simply don't have the money to sign Reyes to a long-term deal with Albert Pujols' contract on the table this offseason. While it's a little hard to exactly predict what Reyes's going price will be, it will be substantial, and the Redbirds just can't absorb any more big-money deals.
On the other hand (and this is just me thinking out loud), there is another scenario. If the Cardinals were to decide they simply aren't going to be able to sign Albert to a new contract (and there is certainly reason to think that may be the case), then there would be a nice little pile of cash sitting around just waiting to be claimed. Reyes is still within his prime years, and wouldn't be a bad candidate to throw some of that money at.
The Cards could, conceivably, sign Reyes to a contract in the five-year range. I don't think he would get an offer for seven years, but five with a club option for six would even be palatable. Of course, that would leave the club without a first baseman, but there might be a solution to that already on the roster. Lance Berkman has looked rejuvenated this year, and will almost surely be looking to come back and play again in 2012. Considering his age, you certainly wouldn't go for anything really long-term, but a two year deal with a club or mutual option for a third would not be bad at all. The two years of Berkman playing first would give the Cardinals time to try and find their next first baseman, either through drafting and developing one (there are almost always a couple college bats in the draft who come out near finished products), or by trying to trade for one. Sort of a Brett Wallace deal in reverse.
The Cardinals would get the draft picks from Albert leaving, a short-term fix at first base in Berkman, and Jose Reyes signed through his age 33 season, rather than Pujols signed through his ~39 season, and I'll bet they could do it for right around the same average annual value as what Albert alone will command over the first two years of his new contract. Given the choice between Albert for $27-30 million or Berkman and Reyes for a similar price, I would have to think long and hard about which I would prefer.
How far-fetched an idea is this? Fairly. For one thing it relies on a level of knowledge we don't really have as far as the Cards' chances of signing Pujols. But in any case, the idea of bringing in Jose Reyes to augment the 2011 Cardinal offense certainly has some merit. This squad is a little better than I think most thought they were going to be, and are probably the least flawed team in the division. Adding another dynamic piece to the puzzle just might push the Cards over the top and put the NL Central firmly in their hands.