The tattoo that launched the lawsuit.
An image used in the sequel to
The Hangover
could leave Warner Brothers with a wicked headache of its own.
Last week a tattoo artist from the south-central Missouri town of Waynesville
sued the film studio
on claims that it used his copyrighted work in
The Hangover 2
without his permission. In the film, actor Ed Helms wears a tribal tattoo similar to the one that graces the face of former heavyweight boxer Mike Tyson, who -- coincidentally -- made a cameo in the original
Hangover
film.
The lawsuit filed in federal court in St. Louis contends that tattoo artist
Victor Whitmill
was working in Las Vegas in 2003 when he inked the famous image on Tyson's cheek and forehead. Afterward, Whitmill had Tyson sign a release "that all artwork, sketches and drawings related to [his] tattoo and any photographs of [his] tattoo are property of Paradox-Studio of Dermagraphics" (a.k.a. Whitmill's tattoo studio.)
Whitmill now operates Paradox out of a 2,000-square-foot building in Waynesville.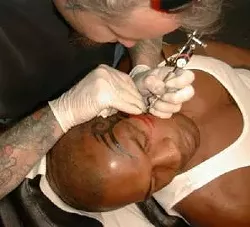 Image obtained through court documents.
Whitmill applies the tattoo on Tyson in 2003.
In court filings, Whitmill asserts that he discovered via movie posters and other promotional material that the studio was using his tattoo image in
The Hangover II
. His suit asks the court to halt the release of the film until the copyright issue is resolved and award him unspecified monetary damages for injuries suffered. The movie is supposed to arrive in theaters May 26.
An employee at Whitmill's studio referred Daily
RFT
to his lawyer, Michael Kahn of St. Louis.
A copyright and trademark attorney, Kahn is perhaps best known for defending cartoonist Todd McFarlane (
creator of Spawn
), who in the early 2000s fought a
protracted legal battle
against St. Louis Blues enforcer Tony Twist for allegedly using the hockey player's likeness in a comic magazine.
Kahn tells Daily
RFT
that his client has no beef with Tyson. "This lawsuit is about the copying and reproduction of my client's artwork and placing it somewhere else or on someone else," says Kahn.