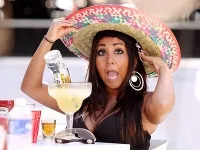 Today is May 5, which means, of course, that Cinco de Mayo festivities are upon us. Which means that many a Corona and Dos Equis will be swilled into the wee hours of the night. Hooray!
We thought this might be a good time to inform you about a new, national designated-driver service that launched in the Lou a couple weeks ago. The purpose of the new venture is to remove the annoyance of relying a chauffeur to squire you across town during the early, relatively sober hours of the evening. Instead, this service allows you to drive to a few bars on your own to start the night -- and then, once you've had too much tequila (see Polizzi, Nicole, above-right), a company driver will meet you at the bar and drive you home in your very own car. (We can't promise you'll remember where it's parked the next morning.)
The folks behind Be My Designated Driver, or BeMyDD, claim that their service costs a fraction of other chauffeur companies, because they don't put as much money into vehicle upkeep. After all, it's your car they're ferrying you around in. The cost is $25, plus a mileage fee.
We suspect many of you aren't sure whether to put your faith in an unknown, entrepreneurial start-up team while in your most vulnerable, drunken state. Rest assured, the drivers are professional hackmen, working on contract, which means they are fully screened and insured ... and they apparently come with the added perk of being "professionally dressed," according to a spokesperson. Because that really must seal the deal.
Happy celebracion!