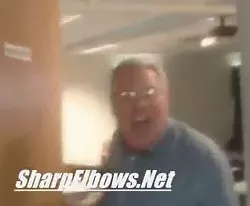 sharpelbowsstl.blogspot.com
Don Giljum has sharp words for Sharp Elbows.
A lecturer at University of Missouri - St. Louis and a right-wing blogger were arrested Saturday following a fracas in one of the school's hallways. The incident involved Don Giljum, a teacher of a labor studies class at the university, and Adam Sharp, who goes by the online handle
Sharp Elbows
.
Last week a video montage of Giljum popped up on conservative blogs, showing the professor telling his students that it's okay for union workers to use violence during contract negotiations. After originally airing on the right-wing website
BigGovernment.com
, the
video was subsequently removed
after it turned out that the
clip was highly edited
to make Giljum's statements worse than they were.
Hoping to produce another scandalous video of Giljum, Sharp visited UMSL Saturday to confront the professor. During a break in Giljum's class, Sharp walked up to the professor in the hallway with his camera rolling. Giljum wasn't too pleased.
Here's the incident report Daily
RFT
obtained yesterday from campus police:
April 30, 2011 UMSL Police took report #11-190. A trespassing/property damage at South Campus Classroom Building. A freelance reporter came to a labor relations class and was taking photos. The professor and the reporter have had negative encounters in the recent past. The professor purposefully knocked over the reporters' camera, damaging it. The professor was arrested for property damage and the reporter was arrested for trespassing. Both were booked and released pending warrant applications.

In his blog
, Sharp says he greeted Giljum with the question: "When was the last time you committed industrial sabotage, or threatened the use of industrial sabotage to gain leverage in a Union negotiation?"
Giljum responded "never" and said the Breibart video was taken out of context. He then asked if Sharp was behind the "internet hatchet job" earlier in the week. When Sharp responded that the video wasn't a hatchet job -- they were Giljum's words, after all -- the professor allegedly took Sharp's camera and threw it to the ground. Sharp then pulled another camera from his pocket and continued to film this scene:
You can read Sharp's account of the dust-up
here
. Unfortunately, Daily
RFT
was unable to reach Giljum for comment -- though we'd love to hear your side of the story. (Hint, hint.)
Saturday, btw, was not the first time Sharp has made minor headlines for his "journalism." Last year he
accosted KTVI reporter Charles Jaco
while the latter was in the field reporting a story. When Jaco finally gave the pestering Sharp him a chest bump, the blogger filed charges against Jaco that were
eventually dropped
.
H/T: St. Louis Activist Hub, which has an audio interview with students who witnessed Sharp's run-in with Giljum.