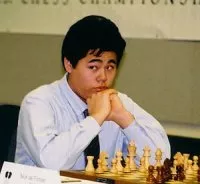 Will Nakamura leave us searching for Bobby Fischer's record?
It ain't exactly the Thrilla in Manilla, but it's being billed as the first-ever international chess match between two top-ranked players to be played in St. Louis since 1886. And the stakes are particularly high for one of the contestants, who seeks to oust former champ Bobby Fischer as the highest-rated American ever to play the game.
Beginning May 16, St. Louis' own Grandmaster Hikaru Nakamura, the No. 1 player in the country and the No. 8 player in the world, will square off against the No. 11 ranked Grandmaster Ruslan Ponomariov, of Ukraine. The ten-match contest will be held at the Chess Club and Scholastic Center of St. Louis, in the Central West End.
The Japanese-born Nakamura, who was raised in New York and currently resides in St. Louis, currently boasts an international rating of 2774 as determined by FIDE, the international governing body of the sport. With a stellar showing against Ponomariov, it's possible for the 23-year-old to surpass Fischer's best-ever U.S. ranking of 2785. (According to promoters, Nakamura will have to win three more games than he loses in the upcoming tournament in order to top Fischer's score.)
The Chess Center recently played host to the national championship tournament, won by New Yorker Gata Kamsky. Nakamura, a former winner of that tournament, opted out of it this year, preferring to focus on international play.
The May 16 tournament, which will extend through May 25, will also feature a 10-match contest between legendary Grandmaster Viktor Korchnoi (still playing at 80) and St. Louis Chess Club resident Ben Finegold. The contestants will participate in a live, virtual press conference the morning before the first match.
The Chess Club and Scholastic Center of St. Louis was created in 2008 as a pet project of lobbyist/philanthropist Rex Sinquefield. Since then, the center has hosted three men's U.S. championships and three women's U.S. championships.