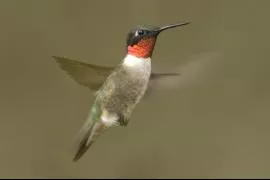 Courtesy Missouri Department of Conservation
Here they come!
All ye birders in St. Louis, the first ruby-throated hummingbirds of 2011 are arriving.
The big time to see them or course is July, when the young'uns start buzzing around, and also August, when many are heading back southward.
But right now, a good many of them are passing through on their way to northern states, and some will end up sticking around and starting families.
By the way, if you're going to put out a feeder, the
state of Missouri warns against red dye in the sugary liquid
, as it apparently harms the birds.