This recently appeared at the intersection of South Jefferson Avenue and Cherokee Street.
The fledgling small businesses on Cherokee Street face plenty of hurdles on the path to sustainability. Now you can add anarchist mayhem to the list.
In the past week, anarchist graffiti (see photo) has appeared on both public and private structures; security cameras have been stolen or disabled; and now there's a graffiti campaign against -- that's right -- security cameras.
How does Daily
RFT
know it's all the same culprits? Because they were caught
doing all of the above on security cameras
.
Either these anarchists have an absurdist sense of humor, or, to put it politely, they're new at this.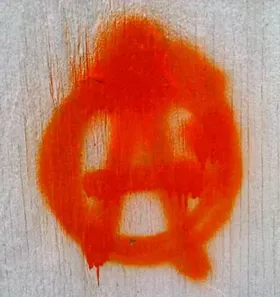 Grafitti near South Jefferson and Cherokee.
Footage taken late in the evening of Friday, April 15, shows taggers painting an anarchy symbol inside
Foam Coffee and Beer
, then exiting onto Cherokee street. They turned north onto Texas Avenue, where they flipped a couch and climbed it like a ladder to tear a security camera off the brick garage owned by
Jason Deem
, president of the
local business assocation
.
With the stolen device in hand, the same group then walked right past two other cameras.
"There were six white guys and one white girl," says Deem, whose garage has been burglarized before. "Through mutual friends in the neighborhood, it was easy to identify at least four people."
He adds: "They looked like hipsters."
A few days earlier, the owners of
The Mud House
coffee shop discovered that one of their cameras had been swiped; another had its wires clipped.
"We don't have cameras to hurt anybody," says
Casey Miller
, who owns the cafe with her husband,
Jeremy
Miller
. "We have them to keep our things safe."
When thieves steal the shop's tip jar and then flee down the street, she says, the Millers turn over the exterior camera tape to police. There's also a lens trained on their garden, where pots of herbs have been nabbed.
"It's just a bummer," she says. Her camera, like Deem's, was worth about $1,000, according to police reports. "These are people I've been nice to....I can't tell hipsters apart. You
know
anarchists like coffee. You
know
they like lunch. I treat everybody with respect, and I feel like we deserve it back."
The issue came up Thursday evening at the monthly business association meeting inside
El Torrito
. Armed with a laptop,
Carlos Dominguez
-- owner of Carnicerìa Latino Americana -- showed other residents what his battery of cameras had recently captured: Young people tagging buildings. It wasn't immediately clear who they were.
Mike Glodeck
, owner of Foam, points out that one of the anarchists' messages was, "No tears for dead cops."
"It's difficult to start a conversation with somebody that would write that," he says.
Other recent tags next to anarchy symbols include "Work is terrorism," and "Fuck the system!"
A person attending the meeting, who wished not to be identified by name, informed Daily
RFT
that the alleged anarchists were squatting in empty
Paul McKee
-owned properties up in the Old North neighborhood.
Deem told the roughly 30 people assembled that, although he knew the identities of some of the suspects, he's withholding them from the police until he decides on a course of action.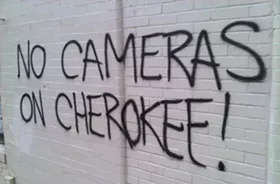 Why? So you won't get caught writing stuff like this?
Whoever the culprits are, they apparently aren't happy about being caught on tape. On the east wall of the Salvation Army thrift store, someone has written, "One Nation Under CCTV," a reference to "closed-circuit" security camera systems.
Yet such systems have proved indispensible in fighting crime in the neighborhood. In the wee hours of Sunday morning -- just five days ago -- a business in the neighborhood was broken into. Several thousands of dollars in electronics were carted off. But the burglar was caught on tape.
"The police evidence technician was able to see where he touched the door," a co-owner of the business says. "Now the police have a very solid lead."
Deem says he can't quite comprehend the backlash against the cameras. "We're not out to attack privacy," he says. "We're out to solve problems. We're out to catch people who are trying to rob us."