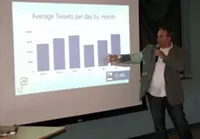 courtesy of Infuz
Jason Fiehler's firm, Infuz, founded STL Tweets and is about to unveil the STL Index.
Last summer, Jason Fiehler, CEO of the downtown digital media firm Infuz,
released a list of the most influential twitter accounts in St. Louis
.
But next week, Fiehler plans to pull a much bigger trick out of his sleeve: The STL Index, a new, real-time list gauging "online influence level" for every twitter account in the region.
We're not just talking about rankings, although there will indeed be that. We're talking about an in-depth profile page for each of the 250,000 or so St. Louisans actively using twitter -- detailing who they're talking to, who's talking to them, what links they're sharing and who's retweeting their bon mots.
As Fiehler admits, Twitter can be maddening to new users, and its power difficult to harness for businesses. "We're trying to make sense of all this
stuff
," he explains to Daily
RFT
. "It's such a big amorphous blob...We want to organize the chaos that's out there."
The unveiling of the STL Index will be the highlight of
The State of Online Influence: Social Reach in St. Louis
, an event Infuz is hosting next Thursday, April 28, beginning at 3:30 p.m. in Soulard Preservation Hall.
But it's far from the only thrill Infuz is promising. Keynote speakers Matt Ridings (
@TechGuerilla
) and Tom Webster (
@Webby2001
) will discuss the "impact of influence both online and offline." And a panel of "St. Louis' most influential people" will include one person who manages to have a ton of influence in both arenas -- Mayor Francis Slay, also known as
@mayorslay
.
Joining Slay on the panel: Chris Reimer (
@rizzotees
), who recently won
RFT
's
first-ever web award for "Best Twitterer,"
Robert Littal (
@blksportsonline
) and Todd Jordan (
@tojosan
).
For all of the mayor's enthusiasm for Twitter (yep, he actually
made an appearance
at
RFT'
s Web Awards!), Fiehler knows that Slay was a pretty big "get."
"The mayor was one person we worked from multiple angles," he says. "He's not just influential online, but extraordinarily influential offline, too ... We did work on him for quite some time. But I think he's excited about coming."
As for Fiehler and his staff, they're also excited, but that's currently mixed with nervous apprehension. Thanks to the recent nationwide
outage of Amazon's cloud hosting service
-- which hosts both Infuz's year-and-a-half-old STL Tweets and the new STL Index -- both services have been down. Infuz is in the process of switching from Amazon to locally-owned
Contegix
, but it's still led to some anxious hours.
And then, of course, there's the fact that for every Twitter user who's thrilled to be at the top of the new STL Index, there are going to be more than 200,000 users who are nowhere
near
the top. Fiehler admits that he's ready for some blowback: "Some of the people that we've given peeks of it to have been horrified."
The State of Online Influence is a free event, but space is limited. To register now,
check out the event website
.