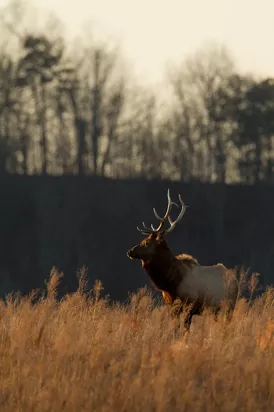 courtesy the Missouri Department of Conservation
The majestic elk...sort of like the ones that will be arriving in MIssouri next week.
Elk have not lived in Missouri since Abraham Lincoln was president. (Since 1865, for those of you keeping score at home.)
For mere humans, that's a really, really long time. For a forest, like the one that covers much of the Peck Ranch Conservation Area in southeast Missouri, about three hours from St. Louis, it's not much -- maybe a life cycle or two.
Which is why the Missouri Department of Conservation feels confident that its spanking-new herd of 34 elk, expected to arrive via semi truck from Kentucky next Saturday, April 30, will settle right in, graze happily and be fruitful and multiply. If all goes well, there will be enough elk to hunt in just five years.
And if that sounds a little counterproductive to a city slicker, consider this: Conservationists consider hunting a form of population control.
Anyway, elk have way more benefits than possibly, someday, becoming good eating. The department was so eager to prove them, in fact, that it invited Daily RFT down to Peck Ranch yesterday to check out its spanking-new elk habitat.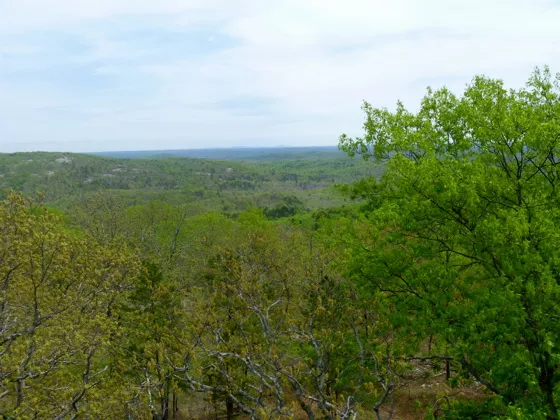 Aimee Levitt
Peck Ranch, as viewed from the top of Mt. Stegall, its highest point.
In 1990, the Department of Conservation started a century-long project to figure out how different forms of land management affect all aspects of the forest ecosystem of the Missouri Ozarks. They've experimented with harvesting trees, setting controlled fires to clear the land and with reintroducing formerly extinct species into the woods (most notably wild turkeys and collared lizards), but they don't expect to see the full effects of their work until 2090. Already one conservation employee, Ryan Hout, a wildlife biologist who manages Peck Ranch, is the second generation of his family to work on the project.
But why bring back the elk after nearly 150 years?
"Natural conservation manager is like a puzzle," Hout explains. "When you tinker with the environment, you want to keep all the pieces." At this point, he says, after 30 years of tinkering, Peck Ranch is finally back to where it was when elk last lived in Missouri, before timber companies swept through the Ozarks and left behind fields of tree stumps.
Plus, elk are what are known in the conservation biz as "charismatic megafauna," the sort of big, adorable animals that draw large crowds of tourists. Reynolds, Shannon and Carter counties, site of the elk restoration zone, are among the poorest in the state.
But what about mountain lions and black bears? They may not be as lovable as elk -- but weren't they once part of the environmental puzzle, too?
"There's a fine line between not encouraging and not discouraging a species," department spokesman Jim Low says carefully. "Bears and mountain lions have been coming in on their own. It wouldn't be prudent to restore them. The presence of humans is too great."
(Obviously he couldn't say, "Well, can you imagine the shitstorm if we used public funds to bring back dangerous wild animals?")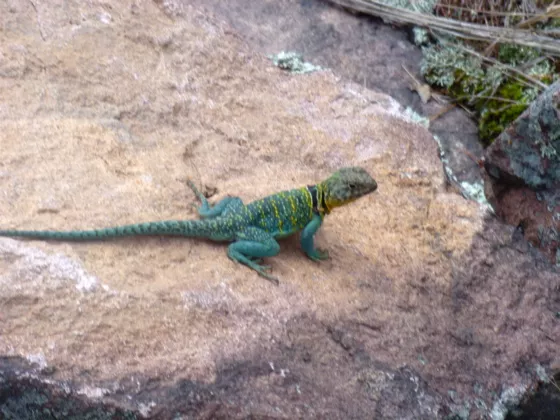 Aimee Levitt
The collared lizard, a species previously reintroduced to Missouri. Not megafauna, but charismatic nonetheless.
This is not the first time Missouri has tried to reintroduce elk. An earlier attempt ten years ago was foiled by an outbreak of chronic wasting disease, a neurological ailment that was then impossible to diagnose in a living animal. (In an exciting new advance in veterinary medicine, it's now possible to test for it by taking a sample from an animal's rectum.) Since then, the Missouri conservationists claim, they've learned from their peers in Kentucky and Arkansas, who have had successful elk reintroduction programs, and are ready to give it another go.
There is one technical problem: the new elk are Rocky Mountain elk. The elk that lived here 150 years ago were eastern elk. "The eastern elk has been extirpated," says Ron Dent, the state's Elk Restoration Coordinator. "The Rocky Mountain elk are the closest we could come up with. They're what all eastern states, including Kentucky, have used since the 1980s. You honestly cannot tell the difference."
Well then. The final decision was made last October. The state allotted the project a budget of $411,000; donations from other sources, notably the Rocky Mountain Elk Foundation and the Appalachian Wildlife Foundation, will offset additional costs. The department of conservation set aside 374 square miles in southern Missouri for the elk restoration zone (it's roughly the shape of the state of Wisconsin) and established Peck Ranch as ground zero because of its mix of forests, grasslands, streams and open glades. "It's prime landscape and habitat for elk," says Joe Jerek, a department spokesman.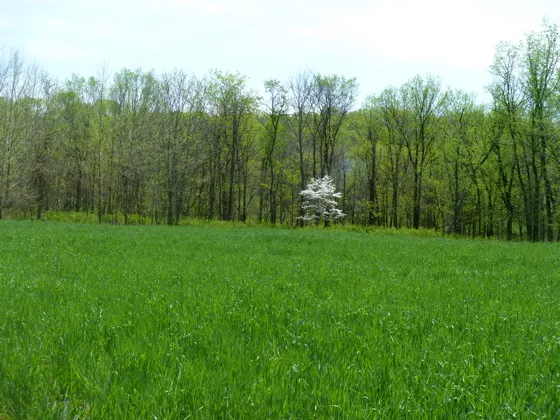 Aimee Levitt
If you were an elk, this would be a gourmet meal.
The conservationists have planted fields of prime elk food: crimson, clover, wheat, rye, alfalfa and gamma grass, considered the "ice cream of grasses." They hope this will suffice so the elk won't wander onto neighboring ranches and knock down fences and tear up the pastureland. (One elk has the appetite of six or seven cows and is capable of considerable damage.)
Still, despite the department of conservation's offers to educate landowners about elk habitats (and reimburse them for the cost of setting up places for elk on their own land) and its promises to recapture any stray animals, some locals are still firmly anti-elk.
And this was before the herd even arrived.
Last winter, the Missourians traveled to Kentucky and captured 49 elk to be transported to Peck Ranch in the spring. But it was a rough winter in Kentucky, with lots of snow and wildly fluctuating temperatures, Dent explains, and fifteen of the elk died, mostly from pneumonia and capture myopathy, a degenerative muscle disease that develops due to the stress of captivity. (Really.)
Now just 34 remain, nineteen cows and fifteen bulls. (The cows are far more difficult to handle than the bulls. The most obstreperous among them has been named Kimmie, after Hout's wife. Kimmie-the-human doesn't mind. Or so Hout claims.) Several of the cows are pregnant, and the conservationists hope they won't calve until they've become acclimated to the environs of Peck Ranch.
"We're going to have a soft release," Low says. "We're going to load the elk into pens and hold them for a couple of weeks so they can acclimate so when the gates open, they won't panic and run." In Kentucky, he's heard, some elk like their pen so much, they won't leave.
Aimee Levitt
The elk holding pen at Peck Ranch.
The Peck Ranch holding pen covers three acres and can hold 75 elk. The herd will be subdivided by age and sex: one area for bulls, one area for calves and two areas for the cows, who prefer to have lots of space when they're calving. Each animal will be tagged before it leaves Kentucky and fitted with a GPS collar so the department of conservation can monitor its whereabouts. Too small for collars, newborn calves will be microchipped instead.
Though elk are notoriously shy creatures, the conservationists hope they'll be ready for public viewing by July. Prime elk-viewing season is in late September or early October, conveniently nestled between the end of river-tubing and the beginning of hunting. By then, each bull will have assembled a small harem of cows. The bulls announce their intention to mate by bugling, an eerie, high-pitched trumpeting sound that has been a proven crowd-pleaser in other states. (But can it hold a candle to the boom of the prairie chicken? You be the judge.)
Aimee Levitt
Department of Conservation workers unload hay bales to feed the elk while they live in the holding pen.
It's uncertain, though, whether the elk will cooperate with the tourists and do their grazing and herding in view of the road.
In any case, by next year, the elk restoration plan calls for the herd to grow to 150 head. Many of those will be imported from Kentucky, but with any luck, some will be born in Missouri. And as soon as the population reaches 500, the hunting can commence.
Meanwhile, the conservationists can barely contain their excitement. Even Governor Jay Nixon is excited; he's rumored to be on hand when the elk arrive next Saturday.
(In a way, this project is similar to the Prairie Chicken Restoration Project, subject of this week's RFT feature story, in that it brings back a long-lost animal with a very cool mating call. But the elk are much bigger and have been gone much longer.)
"This is kind of a big deal," says Low. "Many of us have been inspired by the restoration of the deer and wild turkey populations [in the 1940s and '50s]. For a lot of us, it'll be the highlight of our career."