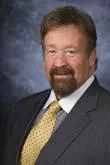 The United States Attorney's Office announced today that a grand jury has indicted Douglas Morgan on a bank fraud charge, involving a series of loans obtained through Commercial Bank of St. Louis.
Morgan, the long serving chairman of the St. Louis County Planning Commission until his removal earlier this year, was a shareholder and member of the advisory board for Commercial Bank, a board member of Missouri Employers Mutual (the state's worker's compensation insurer), as well as a member of the Civilian Board of the Major Case Squad.
According to the indictment, from 1999 through 2010 Morgan obtained a series of loans from Commercial Bank based upon his submission of false and deceptive personal financial statements. Morgan obtained approximately fifteen loans in his own name, while personally guaranteeing other loans in the names of his children.
The personal financial statements falsely represented that Morgan personally held millions of dollars in funds, assets, and real estate -- which he did not. Further, Morgan falsely represented that the Internal Revenue Service (IRS) had frozen and placed holds on purported trust funds valued in excess of $10 million, when, in fact, he held no such trust funds, and the IRS had not, in fact, taken action against his funds. The outstanding balance on his falsely obtained loans is approximately $1.5 million.
A federal grand jury indicted Morgan, 65, of Chesterfield on one felony count of bank fraud. He appeared in federal court today.
If convicted, the count of bank fraud carries a maximum penalty of 30 years in prison and/or fines up to $1 million.
This case was investigated by the Federal Bureau of Investigation. Assistant United States Attorney Hal Goldsmith is handling the case for the U.S. Attorney's Office.