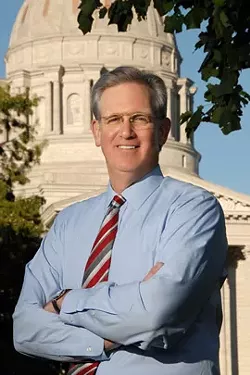 Nixon: Standing proud (as recently as Monday)
What a joke. Just a few days old and Governor Jay Nixon's "solution" regarding new regulations for Missouri's notorious puppy mills is already falling apart.
After remaining silent for months on Proposition B (the ballot initiative
51.6 percent of Missourians voted for
in November that calls for greater regulations on dog-breeding facilities) and after remaining mute this year as legislators
worked to reverse the statewide vote
, Nixon swooped in out of nowhere Monday to say he'd
brokered a compromise
. (We're told the governor considered wearing a cape and tights to the news conference but his staff convinced him otherwise.)
Under Nixon's "Missouri solution," dogs would be protected as would the livelihood of those who breed the puppies. The governor boasted that folks on both sides of the issue had signed onto his deal.
No so fast.
Now Republican legislators in Jefferson City -- who led the effort to to repeal Prop. B -- say they'll only compromise if the governor first signs their bill that would overturn the voter-approved law, known as the Puppy Mill Cruelty Prevention Act.
In other words, they've got Nixon on the short leash. They want the Democratic governor to go ahead and sign their bill on the good faith that they'll then throw him a bone and incorporate a few of the provisions that the majority of Missourians voted into law last November.
You know what that's called? Leverage. The legislature just socked Nixon with a fistful of Kryptonite. Monday's super hero is now a super zero.
H/T:
St. Louis Activist Hub
, which provides a complete blow-by-blow account of Nixon getting TKO'd.

Keep up on all the latest St. Louis news and gossip by following @chadgarrison on Twitter and Daily RFT on Facebook.