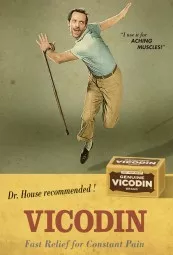 Give those vicodins back, Dr. House.
Got some delicious Vicodin squirreled away for a rainy day after that root canal?
The U.S. Department of Justice wants you to give 'em up.
Next weekend, four St. Charles county locations are accepting leftover prescription drugs in a project coordinated by the DOJ.
It's the second annual
National Prescription Drug Take Back Day
-- and apparently, last year's was a ringing success. The
Web site for the initiative
says the feds collected more than 121
tons
of pills last year from locations around the country.
"Each day, approximately 2,500 teens use prescription drugs to get high for the first time, according to the
Partnership for a Drug Free America
," the site says. "Studies show that a majority of abused prescription drugs are obtained from family and friends, including the home medicine cabinet."
So, if you're looking to drop off those extra Xannies so you or Junior won't be tempted, you can drop them off next Saturday between 10 a.m. and 2 p.m. Take 'em to St.Charles police HQ at 1781 Zumbehl Road; the O'Fallon police at 100 North Main Street; St. Peters police at Grand Teton and Suemandy drives; the aldermanic chambers at City Hall in Lake St. Louis; or 6358 Delmar Boulevard in University City.
The final location will also gladly accept unwanted Maker's Mark bourbon, Beefeater gin, middle-grade weed or pretty much any other intoxicants you'd like to give up.
(That was a little joke. If it went over your head, perhaps you should take 4/20 a little less seriously as a holiday.)