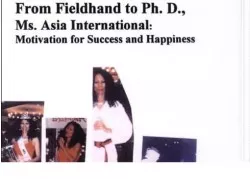 The cover of Udis Sanchez Lord's autobiography, which got her in big trouble with her cousin -- and a Canadian court.
Kidnapping! Land fraud! Cousins fighting with cousins -- even as one cousin rises from working as a fieldhand to achieve both her Ph.D. and win (drumroll!) the title of Ms. Asia International!
It's pretty juicy stuff -- but it's not the plot of a Philippine
teleserye
. (Although, we think, it would be a darn good one!)
Instead, it's the subject of an
opinion released today by the Missouri Court of Appeals' Eastern District
-- an opinion that attempts to sort out a nasty family feud and deal with the complications of the First Amendment and international libel law.
Believe us: We rarely get a court ruling one-half this interesting.
The genesis of today's opinion was a libel suit filed in Canada by Leodegaria Sanchez Pontigon. Pontigon, a resident of Ontario, happened to read online an autobiography that had been self-published by her Missouri-based cousin, Udis Sanchez Lord.
Lord's book,
From Fieldhand to Ph.D., Ms. Asia International
, detailed her startling ascent from, yes, working in the fields to wining degrees and (apparently) beauty pageants. But it also detailed an incident that Ms. Lord claimed had happened to her family back in the Philippines -- namely, that her very own cousin, Ms. Pontigon, had supposedly been involved in some shady business.
A
Canadian legal expert later provides this summary of the claims
:
In the book's very first chapter, [Lord] alleges that Pontigon and her husband, Luisito Pontigon, kidnapped Lord's mother and forced her to transfer the deed to her property into Pontigon and her husband's name. The book also insinuates that both Pontigon and her husband were involved in the disappearance of Lord's Uncle Pulo.

Pontigon became aware of the book and its contents on March 10, 2004, when she consulted it online. Other members of her Filipino community did as well. Pontigon suffered greatly and for a long period following the publication of Lord's book, both physically and emotionally.

So Pontigon and her husband sued. When Lord, who is based in O'Fallon, failed to make an appearance in Canadian court to defend herself, the court found in favor of her cousin -- and Lord found herself facing a judgment of $37,500, plus another $13,716 in costs.
But as any lawyer can tell you, a judgment is only as good as the paper it's written on. So Pontigon's attorneys apparently filed the judgment in the circuit court of St. Charles County. That court granted the registration and issued a garnishment -- which would give Pontigon her first real chance of collecting.
Not so fast, the Missouri Court of Appeals announced today.
As the court's three-judge panel concluded in a unanimous decision, Congress has taken special pains to protect the right to free speech in the United States -- and in some cases, that means the right to evade a foreign libel verdict.
The court cites this particular note from Congress:
The threat of the libel laws of some foreign countries is so dramatic that the United Nations Human Rights Committee examined the issue and indicated that in some instances the law of libel has served to discourage critical media reporting on matters of serious public interest, adversely affecting the ability of scholars and journalists to publish their work. The advent of the internet and the international distribution of foreign media also create the danger that one country's unduly restrictive libel law will affect freedom of expression worldwide on matters of valid public interest.

So while one can hardly assume that Canada, of all places, is one of the offenders being criticized by the U.N., Congress makes it clear that no foreign libel judgment can be registered unless certain considerations are met.
A domestic court, for example, can't enforce a foreign judgment for libel unless it determines that the foreign court "provided at least as much protection for freedom of speech and press in that case as would be provided by the first amendment." They would also need to determine that due process rights had been accounted for -- and to make sure a "certified and authentic" copy of the judgment has been filed.
If nothing else, that apparently didn't happen in this case. "There is simply not enough here to show that this 'judgment' is entitled to full faith and credit in a Missouri court," the appellate judges concluded. "As such, the Circuit Court should not have proceeded to hearing, judgment and execution."
The case now goes back to the circuit court in St. Charles County for further proceedings. In other words: The soap opera continues!
PS A reader with far better institutional memory than this Daily
RFT
correspondent directed us to
an interview with Dr. Udis Sanchez Lord
that noted
RFT
staff writer "Unreal" conducted in 2005. Those wanting more details about her meteoric rise from fieldhand to pageant queen should certainly take a look.