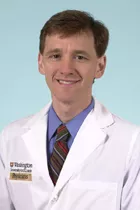 Susan G. Komen for the Cure, the world's largest breast cancer organization, announced yesterday that it would give a $6.5 million grant to researchers at the Washington University School of Medicine who proposed using genome sequencing to develop personalized vaccines for breast cancer patients.
"It's very exciting," Dr. William Gillanders, the leader of the project, tells Daily RFT. The plan, Gillanders explains, is "to take a genome sequence, identify the mutations and then design a target to target the mutation. It's been a dream of cancer researchers for centuries, but we've never had the technology to identify cancer mutations before."
The Komen grant will give Gillanders and twenty other investigators at Wash. U. enough financial resources to support five years of research, including pre-clinical studies and the first phase of trials.
The new research will build on the work of other Wash. U. researchers, including that of Dr. Matthew Ellis, who sequenced the DNA from 50 breast cancer patients and discovered more than 1,700 mutations. Ellis will be working very closely with Gillanders as research goes forward.
Gillanders and his team will take a biopsy from each breast cancer patient -- the initial trial will have fifteen participants -- and sequence the DNA. Then they'll do the same with healthy cells taken from the peripheral bloodstream and compare the two in order to identify the mutations from the cancer. Since each patient's DNA is unique, it's unlikely that all the participants in the study will have the same mutations.
Then the doctors will develop a vaccine that will harness each patient's immune system to identify and destroy the mutated cells. "One good thing about this strategy of using the immune system," Gillanders says, "is that we don't have to understand all the genetic pathways. We can target the mutations with the immune system. It's the first genome-based cancer therapy."
Gillanders believes that, eventually, the same approach can be used to fight other forms of cancer. The reason Wash. U. is targeting breast cancer first is because he happens to be a breast cancer surgeon. But he emphasized the collaborative nature of the project.
"We have immunology researchers, translational medicine, the genome sequencing center, we can manufacture the vaccine here," he says. "That's the reason why we're getting funded. We're the only place that can complete this kind of study."
The Komen foundation gave out a total of $55 million in research grants this year; the two largest went to Gillanders' team at Wash. U. and investigators of the University of California, San Francisco, who also received $6.5 million.