If you are a woman who grew up in the '70s and '80s, you probably spent a lot of time in the company of Laura Ingalls and her family as they rolled along in their covered wagon across the American frontier of the 1870s and '80s, either in the form of the series of books that Laura wrote as an old woman in the 1930s or the TV show Little House on the Prairie. (The books and the TV show are similar but entirely separate entities.)
And if you were a Little House fan, odds are you entertained fantasies of churning butter and tossing around an inflated pig's bladder and wandering through the prairie barefoot with your sunbonnet hanging down your back and enduring all manner of frontier hardships with Ingalls-like good humor.
In her new book The Wilder Life, Wendy McClure, author of the memoir I'm Not the New Me (based, in part, on her blog Pound) and a columnist for Bust magazine, indulges those childhood fantasies and travels deep into the recesses of "Laura World." She visits the various Ingalls and Wilder family homesteads, discovers some unpleasant truths about the real Little House on the Prairie, encounters many crazed Laura Ingalls Wilder fans (known amongst themselves as "bonnetheads," though McClure prefers "Lauraphiles"), amasses a sizable collection of sunbonnets and, yes, churns a crock of butter.
The result is a meditation on the power of childhood reading, even after you're grown up. It's also one of the best books this Daily RFT correspondent has read in a very long time.
McClure will be visiting St. Louis this Monday, April 18, for a reading at the Schlafly branch of the St. Louis Public Library, sponsored by Pudd'nhead Books. A few weeks ago, she chatted with Daily RFT by phone from her home in Chicago about The Wilder Life and all things Laura Ingalls Wilder.
courtesy of Riverhead Books
Wendy McClure
Wendy McClure: I'm at home today waiting for the electrician. This morning a fuse blew in my kitchen and I have no power.
Daily RFT: Thank goodness you have a butter churn!
Yeah, I know! When I got it, I thought, now I'll be prepared when the power goes out. But I still wish I could plug in the blender. Actually, people are really fixated on the butter-churning. It's the simplest thing, but I understand, because I wanted to do it, too. There's this idea that doing it this way, by hand, it would taste better, but when you're working with supermarket cream, it's not better at all.
Did you ever find a pig's bladder?
Well, it's a hard thing to ask for. When I first started the project in 2009, I brought the book to my neighborhood grocery store, but they did not understand what I was asking for. Here in Chicago, though, we have all these artisan meat markets now and I've made a few calls and they're like, "Yeah, we have it." When I was a kid, though, I was really not getting that it was a big entrail. I thought the pig was like a cereal box that you opened up and there were toys and prizes inside.
Aside from the butter-churning, what was the best part of visiting Laura World?
Oh, getting to see the home sites. Big fans get really jealous. The home site in [DeSmet] South Dakota looks just like you'd imagine it. You get to sit in a claim shanty in pretty much the same spot. It's living history.
But didn't all that reality start to freak you out in the book?
Yeah, it was a little bit too much. Part of me wanted to stay and take in everything and live every moment -- to experience a prairie dawn! -- but part of me was a little tired. Not overstimulated, but tired of trying to grab at every experience. Even though the idea of wandering around that beautiful place was great, I realized it wasn't me. I had this epiphany that this was a life I'd like to inhabit in a book, but not in real life.
The site in Mansfield, Rocky Ridge Farm, is like Laura Mecca. There's all this stuff, these great artifacts like Pa's fiddle. You can indulge in the idea of her life. I'm not sure how much the real-life Laura Ingalls Wilder and I would have gotten along, but at the same time, I can imagine living the same life she had in that farmhouse, cooking in that kitchen Almanzo made, living close to the land, taking a walk and baking bread and knocking out a Little House book or two. It's like you can have the fantasy and understand the reality.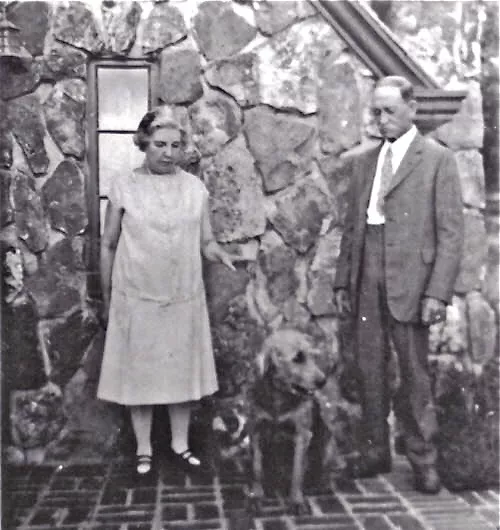 Laura Ingalls Wilder, her husband Almanzo and their dog Nero at Rocky Ridge Farm in Mansfield, Missouri, in the early 1930s, when Laura was writing the Little House books.
Have you been able to re-read any of the Little House books since you finished The Wilder Life?
I'm re-reading Farmer Boy now. Now that I've seen the house [the Wilder family farm in upstate New York where Laura's husband Almanzo grew up], I know the orientation of where things are. I still have the vision of the house conjured up from the book descriptions, side by side with what I know now.
Little House in the Big Woods is still one of my favorites. I also really like By the Shores of Silver Lake. It was such a transitional time. Anyone who says those are books about the good old days has it wrong. They're about the country changing. Laura watches the railroads get built, she goes on a train ride, she watches the telegraph lines. I can relate to it so much -- the first time you see something new and it changes everything. In the first book, Little House in the Big Woods, they're completely self-sufficient in the way they did things. It's sort of -- not a fantasy -- but a paradise moment and impossible to sustain. They live in the middle of nowhere, off the land, and then one book later, Pa decides the Big Woods are getting too crowded.
And then by The Long Winter, they're totally dependent on the railroad.
Yes, and then by the end of the series -- which I consider to be These Happy Golden Years, not The First Four Years -- as a kid, I was so excited because they were able to build the extra room and get a parlor organ.
And all those descriptions of the dresses!
Yes! And Ma has her sewing machine and they seem kind of prosperous again. It's such a different lifestyle than they had in the Big Woods. Laura's counting all the money she's earned and they have cash. In the Big Woods, is there cash, or just Pa's furs? But by These Happy Golden Years, they're consumers. The youngest sister, Grace, doesn't know about pig butchering, she only knows salt pork, the stuff they get from the store.
It seems like it would have been way more fun living in the dugout on Plum Creek.
I think so, too. By the end, you have civilization creeping in all over the place: parlor furniture, those name cards, the whole town [DeSmet] learning to be a town. It makes sense, though: The adolescent Laura Ingalls is at an age where you get really preoccupied with how other people live and what other people are doing: You gotta have those name cards! It's kind of beautiful that that's coinciding with the development of the town.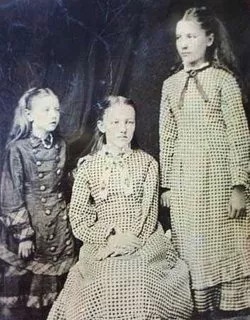 Laura Ingalls (right) and her sisters Carrie and Mary sometime in the 1870s.
Still, By the Banks of Plum Creek was my favorite as a kid. You've got that creek there, you're running around barefoot, but you get to wear a dress.
Even Mary loosens up and gets in trouble in that one.
And they go swimming! Of all the home sites, that's the most fun. Both times I visited, I went in the creek. It hasn't changed all that much, just a little more overgrown. It's fun to see everyone -- and in the summer there are dozens of people -- in there at a time. It's like a holy place with all these shoes left on the bank. It's like warm springs or a place with healing powers. It's hard to not want to take off your shoes and run around.