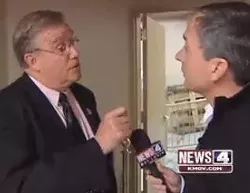 Did you see
KMOV's report last night on Dick Fleming
, the head of St. Louis' chamber of commerce, the Regional Chamber and Growth Association?
For sheer entertainment value, it was a doozy. Evidently, reporter Craig Cheatham has been trying to interview Fleming for months to discuss his salary. Fleming, meanwhile, has been successfully avoiding Cheatham.
Until, that is, the journalist recently tracked down Fleming in a hotel hallway.
It's been a while since we here at Daily
RFT
have rolled out our
Ass Clown of the Week
feature. In this case we just couldn't resist, even though we can certainly empathize with Cheatham. It's damn frustrating when an official flat-out ignores questions from the media.
But what does the general public think? Take a look at the following video clip and then tell us who made the bigger ass out of themselves: Cheatham or Fleming?
A couple observations before you cast your vote: We love the clip of Cheatham slapping the tax forms on the desk for dramatic effect. Ker-slaapp! And doesn't the scene at the end with Fleming hiding behind food crates look like one of those Saturday Night Live skits filmed in the hallways of Rockefeller Center?