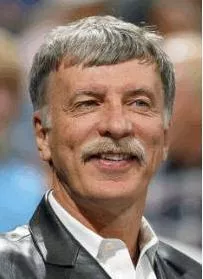 Stan Kroenke's fabulous life just got fabulouser.
Stan Kroenke, owner of the St. Louis Rams, is now the majority owner of a legitimate football squad. You know, the variation of the sport that -- as its name suggests -- is played with the feet. Yes, here in the U.S. of A. we call that soccer. Why?
Anyhoo, over the weekend the Missouri billionaire upped his stake in Arsenal of the British Premier League to 63 percent. Kroenke (who also owns solely -- or with his family -- the Denver Nuggets of the NBA, Colorado Avalanche of the NHL, and Colorado Rapids of the MLS) had owned 30 percent of the Arsenal football club. He's now purchased the shares of two other investors for 230 million pounds (roughly $368 million), increasing his position from a minority investor to the majority owner of the club.
Given the backlash when other non-Brits have purchased English football franchises, the reaction over Arsenal is surprisingly positive.
Commenters on
Arsenal fan sites
generally support the Kroenke's purchase. And even the
spokesman for the
Arsenal Supporters Trust has given Kroenke his blessing.

Word is that Kroenke is now negotiating to send Sam Bradford and Steven Jackson to Arsenal in exchange for the Rams picking up a pair of strikers in return.