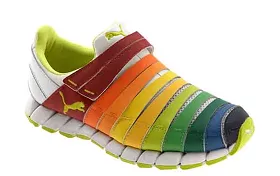 Oh, sure. I could have found a picture of an actual puma, but tell me those aren't awesome.
​

Title of the novel based on tonight's game: The Puma's Roar.
Well that certainly was exhilarating. The second time the
Cards
have scored more than six runs this season, and the second in a row, in fact, meaning the
Mobil
commercials are meaningful again. (Speaking of, this year's version is better than last year's, but not quite as good as the original. The black dude's hair is a big selling point in its favor, though, I think.) Odd how just a couple decent hitting days can make a team look so much better than they did.
Congratulations to Kyle McClellan on his first major league victory as a starting pitcher. It was well-deserved, as he pitched out of trouble when he needed to and turned in another encouraging start. In fact, let's start there, shall we?
-- I was worried after McClellan's first start that he wouldn't be able to replicate the same success he had against the Pirates. There seemed to be an inordinately high number of called strikes going in K-Mac's favour in that contest, especially for strikeouts. Swinging strikes are a good indicator of future success; called strikes aren't nearly as predictive.
Against the Diamondbacks, though, McClellan did much the same thing he did against Pittsburgh, though within the confines of a slightly less generous strike zone. He worked both sides of the plate well, and when he missed it was rarely over the middle. He didn't have great stuff, necessarily, but he avoided any big innings and made good pitches when he needed to.
As far as I can see, there's no real reason K-Mac shouldn't be able to duplicate his performance from tonight going forward, and I think we should see much the same results. He'll always give up a fair number of hits, but his ability to change speeds and work the edges should keep the Cardinals in more games than not. And really, if your fifth starter can give you anything approaching a quality start on a consistent basis you're well ahead of the game.
-- Seeing Lance Berkman go deep twice was surreal, but incredibly encouraging. Arizona is a huge hitter's ballpark, yes, but those were old-school Puma shots right there. The homer to left-center, in particular, looked essentially just like what we've all seen Berkman do to the Cardinals so many times over the years. If Lance is healthy enough to contribute more than just an exceptional batting eye, this offense gains an added dimension they sorely need.
-- I'm thinking if it looks like Berkman is going to be doing much hitting there needs to be some sort of large cat roaring sound effect added to the board at Busch Stadium. Just think how terrifying it will be each time he gets a hit and the stadium speakers shake with the force of a yowling mountain lion in heat.
Also, I have a suggestion for walkup music for the Puma:
-- La Russa let McClellan swing away with a man on base, and it worked out beautifully as he drove home the run with a double to center. Tony then called for a bunt with no outs and his leadoff hitter up to move the pitcher from second to third. In the third effing inning! That just doesn't make any sense whatsoever. Why managers can't get it through their skulls that bunting actually decreases your chances of scoring in most cases is beyond me.
-- I take great pleasure in the knowledge that sometime tomorrow some member of the media, either on radio or the television, will bemoan the Cards' offensive outburst tonight because it proves they're overly reliant on the home run. Think I'm wrong? Just listen. Someone will say it, I guarantee.
-- Mitchell Boggs looked flat-out filthy tonight. If he could bottle that and keep it with him on a consistent basis we wouldn't have to worry about who's going to close games for this team.
-- The Cardinals have played the first two weeks of the season getting essentially no production at all from Albert Pujols. It's even worse than the few times in his career he's missed time on the DL, to be honest. At least in those cases you could count on his replacement to at least offer you some semblance of value. Here, though, Albert has literally contributed negative value to the team with his bat. I say that not to run him down, but to illustrate the fact this offense may not be quite as bad as it has seemed to this point. When you have the best hitter in all of baseball giving you nothing but double plays every time he steps to the plate, it stands to reason you're in for a pretty significant boost if and when he gets it going. Let's just hope it's soon.