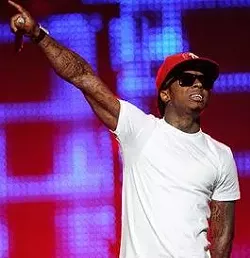 Todd Owyoung
Umm, security? Can you tell those women in the Ameren suite to shut up?
Given his prior gun and drug arrests, one would think that rapper Lil' Wayne would have provided the crowd at Scottrade Center with all the gangsta theatrics they could handle during his
jam-packed concert last night in St. Louis
.
Not so. The real thuggery yesterday allegedly occurred far from stage, in a suite belonging to utility company, Ameren UE. That's where State Representative Jamilah Nasheed (D - St. Louis) was mingling with invitees of the utility's lobbyist when she says she ran into State Senator Maria Chapelle-Nadal (D - University City).
The two African-American politicians made news last week following a radio interview in which Chapelle-Nadal referred to
black politicians and legislators as "house slaves"
for supporting efforts to return the governance of the St. Louis police department to the city after 150 years of state control. Nasheed, the
sponsor of the bill
that would make that happen, had returned fire, calling Chapelle-Nadal
"mentally unstable."
Nasheed, a guest last night of an ATT lobbyist in a nearby suite, tells Daily
RFT
that she wanted to reconcile with Chapelle-Nadal. Before she could do so, however, Nasheed alleges the senator greeted her with a threat.
Jamilah Nasheed (left) and Maria Chapelle-Nadal
"She said that if she had a knife, she would cut my fucking throat," says Nasheed, who
tweeted the comment
last night during the concert.
That's not true, counters Chapelle-Nadal, who was there with an Ameren lobbyist -- and said she did everything she could to avoid Nasheed last night.
"I was trying to enjoy the concert, but she kept harassing me," Chapelle-Nadal tells Daily
RFT
. "Finally she cornered me. I never said I would cut her throat, though I did mention a stabbing. I said that if I were really as unstable as she says I am, I would have stabbed someone by now, like the time she stabbed someone when she was with the 'Switchblade Sistas' -- a high-school gang."
"What the hell does that have to do with anything?" asks Nasheed, who doesn't deny having led a troubled childhood growing up in the projects after her mother committed suicide at 25 and her father was killed after returning home from Vietnam. "I talk to kids about it all the time. I caution them against that lifestyle. I'm not ashamed."
Nasheed says she didn't take the alleged threat last night seriously and never thought about calling security or the police about Chapelle-Nadal. She says she tweeted about it because she thought others should know how the senator treated her.
"I'm praying for her, honestly," says Nasheed. "She's a very intelligent person who can go far in Missouri politics, but she needs to get on some medication and see a psychiatrist."
What the latest spat between the two legislators could mean for local control remains to be seen. Chapelle-Nadal says she's just one of eleven senators opposed to the bill.
As for reconciling with Nasheed, she doesn't see that happening soon.
"She's been harassing me for years," says Chapelle-Nadal. "I've had a standing order in place among my staff to call the police or the capitol security if she comes into my office in Jeff City."
Chapelle-Nadal adds that despite the dust-up with Nasheed she still managed to enjoy most of the Lil' Wayne concert. "Awesome. Incredible show," she says.
Update 4 p.m.
: Jim Avery, a former state representative from Crestwood and Chapelle-Nadal''s guest last night, tells Daily
RFT
that he couldn't hear what the two politicians said to each other once Nasheed entered the suite halfway through the concert.
"I'm good friends with both Maria and Jamilah, so I hate to get in the middle of this," says Avery. "But the whole thing was just pretty stupid. I could tell Maria was pretty upset and afterword she just ignored Jamilah. They shouldn't have been in the same suite together."

H/T to commenter Steven Smith for notifying us of the above video.