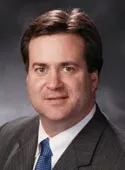 Representative Scott Largent
If State
Representative Scott Largent of District 120
has his way, members of the public will have a harder time getting copies of graphic crime scene photos from law enforcement agencies -- specifically, photos of a dead person whose genitals are showing or who has been decapitated or dismembered.
In fact, the only way such photos or videos could be released if the bill becomes Missouri law would be with the permission of (a) a family member of the victim, or (b) a circuit judge, who concludes that the public benefit from releasing the images outweighs the intrusion on the victim's privacy.
The press doesn't ever publish or air such images, so it's unclear why Largent, whose district sits between Kansas City and the Lake of the Ozarks, is concerned about this subject. When Daily
RFT
called him, he happened to be
en route
to a committee hearing on the bill (
House Bill 883
).
Missouri's current
Sunshine Law
, which stipulates which records and meetings are open to the public, doesn't have a section directly dealing with graphic crime scene images; Largent's bill would add a whole new section the statute.
Read the bill
here
.