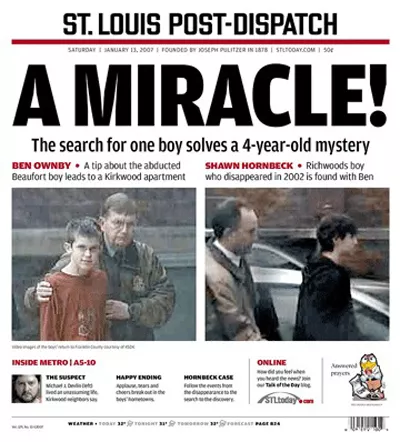 A miracle indeed: The P-D will escape bankruptcy.
Lee Enterprises Inc., the Iowa-based company that purchased the
St. Louis Post-Dispatch
and the thirteen other papers in the Pulitzer chain in 2005, appears likely to avoid bankruptcy, the
Wall Street Journal
reports today.
The company's
sudden solvency is making many of its investors livid
, the
Journal
adds. They'd invested in Lee hoping for default -- and a chance to take over the company.
So what explains Lee's good fortune? Suffice it to say, it's not that profits are up; Lee
issued a press release this morning, warning that revenue will decline
as much as $7.5 million this quarter compared to the same quarter last year.
And while that's partly owing to Easter's late appearance on the 2011 calendar -- pushing the lucrative holiday back into next quarter instead of this one, where it traditionally falls -- things still aren't great overall. Lee now expects revenue to decline one percent this year, instead of the one percent revenue increase it had previously predicted.
So if it's not that newspapers are suddenly flush with profits, what explains Lee's good fortune?
Answer: The company
is selling junk bonds
. Thanks to the Federal Reserve pumping liquidity into the market, there's a "roaring market for debt of risky companies," the
Journal
reports, and Lee intends to take advantage of that and restructure the debt it took on when it purchased the Pulitzer holdings six years ago.
As the
Journal
explains:
Lee isn't alone in its sudden pullback from the brink of bankruptcy, thanks to the frothy state of the high-yield bond market. One by one, distressed companies have been able to sell debt as money floods into the debt markets.

Radio broadcaster Emmis Communications Corp. recently convinced lenders to extend its debt maturities after threatening to raise new money in the bond market, according to a person familiar with the matter. Energy Future Holdings Corp., laboring under debt taken on during its 2007 leveraged buyout, is in the market with a similar transaction this month.
In a press release, Lee refers to the junk bonds as "senior secured notes," explaining,
Lee intends to use the net proceeds from the offerings to refinance substantially all of its existing debt, which is due in April 2012. As of March 27, 2011, remaining principal under Lee's credit agreement totaled $878.8 million, and the remaining balance on its Pulitzer Notes totaled $147.0 million, which constitutes substantially all of its existing debt.

The
Post-Dispatch
is the largest newspaper in the Lee chain; the
company also owns
the
Arizona Daily Star
, the
Quad City Times
and the
Southern Illinoisan
, which is based in Carbondale, Illinois.