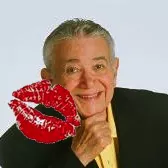 Berger: What's not to love?
Gossip columnist extraordinaire Jerry Berger has found one more place to hang his hat on the Internetz. After a
five-year absence from "columnizing,"
the former society-set scribbler for the
Globe Democrat
and
Post-Dispatch
returned to his craft in 2009 when he founded his website
BergersBeat.com
.
Now, beginning this Friday, Berger will also pen a weekly online column for
St. Louis Magazine
. Berger tells Daily
RFT
this morning that he and the magazine's editor, Jarrett Medlin, had been kicking around the idea for about six months.
In February,
St. Louis Magazine
profiled Berger in a long piece about his career. Frankly, though, the only thing we remember about the article was Berger's
confession that he was once a male prostitute
. Yowzer!
The 77-year-old Berger says the column for
St. Louis Magazine
will feature new gossip, sightings and tidbits that don't appear on BergersBeat.com, which he plans to continue publishing for the foreseeable future.
"It will be a challenge at my age," says Berger. "But it was also a challenge at age 45, 55 and 75."