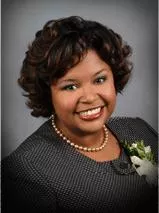 Chapelle-Nadal: Do I sound crazy? I don't sound crazy. No, not at all.
So, if you haven't heard by now, State Senator
Maria Chapelle-Nadal
earned the ire of many of her fellow elected officials on Tuesday when she compared them to "house slaves" during an interview on WGNU.
Chapelle-Nadal (D - University City) made the comments while discussing her opposition to a measure that would return control of the St. Louis police department from the state to the city. Several of her fellow African-American politicians, including
State Rep. Jamilah Nasheed
(D - St. Louis) and St. Louis Board of Alderman president Lewis Reed, are in support of St. Louis governing its own police department.
Chapelle-Nadal, meanwhile, referred to those officials as "house slaves" of Rex Sinquefield, the financier who's recently lent his support to local control of the police department.
Here, exactly, is what Chapelle-Nadal had to say:
I hate going here, but this really -- this movement, this campaign -- is nothing different than what slave politics was. And when I talk about slave politics, you know the whole impression of an individual who was a house slave versus the person in the field. The people working on behalf of the city -- on behalf of the plantation owner called Rex Sinquefield -- those people who are minorities working on his behalf those are the folks who are in the house. I'm off the plantation. I'm a Missouri state senator. I am no longer on a plantation. What these plantation owners like Rex Sinquefield are doing is using their house slaves that are elected in St. Louis City. They're actually disguising the conversation saying that this is a civil rights issue.
Yesterday, Lewis Reed responded by calling for Chapelle-Nadal to step down from office.
"This is not just an insult to me, but this is an insult to me as a father or four, as an African American male and to all African Americans across this nation," said Reed.
"Statements by the senator reflect the bigoted mindset that all African Americans, including the NAACP, 100 Black Men, Urban League, Clergy Coalition as well as many others, must have been 'bought' by, in the senator words a "plantation owner," when advocating a position. This type of racism cannot be tolerated in the St. Louis community or anywhere in our country"
Click the link below to listen to Chapelle-Nadal's interview.


Note: This isn't the first time that race has been brought into the debate over local control. In February a video emerged trying to tie state rep Nasheed -- the sponsor of the bill -- to the Black Panthers.