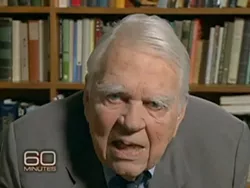 Rumor has it that Pujols will hit baseballs off Andy Rooney's eyebrows.
Gossip columnist
Jerry Berger reports
that Albert Pujols could be featured in a segment of
60 Minutes
this coming Sunday.
As of this writing, the show's
website mentions nothing
about the Cardinals' first baseman appearing on the program. But who knows?
Berger reported last October that a
CBS crew filmed Pujols
during his foundation's annual prom night for people with Down syndrome.