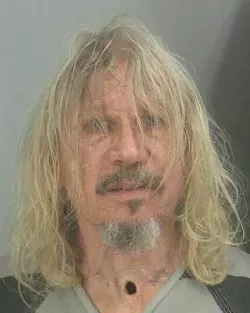 Police Handout
Earl Francis Ealey is charged with second-degree murder. And, yes, that's an enormous tracheotomy.
Updated 3:50 p.m. with name of victim.

Prosecutors have charged 64-year-old Earl Francis Ealey of Pevely with second-degree murder following an argument last night between the victim and the victim's estranged wife.
The Jefferson County Sheriff's Department reports that it was called at 11 p.m. Sunday to a home in the 1800 block of State Route Z in Pevely, where officers discovered a 36-year-old white male victim lying in the driveway with a gunshot wound to the upper torso. The victim was transported by ambulance to an area hospital and pronounced deceased.
According to the sheriff's department, the victim, Donald Horrell, and his wife filed separation papers last week. Yesterday the victim was to return his estranged wife's vehicle to a neutral location.
Instead, the victim discovered his estranged wife's whereabouts and confronted her. A verbal argument ensued, and the victim was asked to leave.
The victim then returned a short time later and an apparent argument ensued between the victim and several others, including his estranged wife. The argument escalated, resulting in the shooting of the victim.
Ealey is charged with second-degree murder and armed-criminal action. He's being held on a $250,000 cash-only bond.