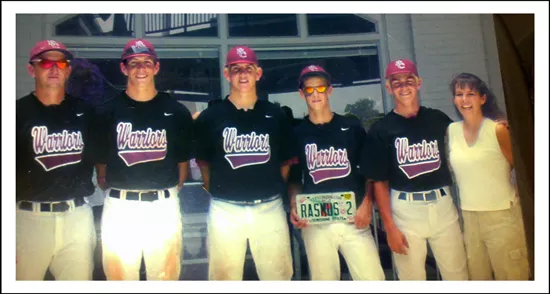 Courtesy of Tony Rasmus
A young Colby Rasmus with his dad (far left), his mom (far right) and some teammates.
In this week's print edition, RFT freelancer Larry Borowsky notched an exclusive interview with Tony Rasmus -- the voluble father of Cards' phenom Colby Rasmus. Not surprisingly, Rasmus had more to say than we could fit within our print pages. We gave you some outtakes yesterday; we've got even more right here.

On base running:
Colby stole bases in high school. He read pitchers. You talk about timing pitchers -- he would time pitchers to see what their time was to the plate. He'd have a little notecard with all that stuff written down on it on pitchers we played against year after year. He was so knowledgeable on the bases.

And he gets up here in St. Louis, he looks like he don't even know what he's doing. I have watched him, and I'm like, "Dude, what are you doing? You look like you don't know what's happening." And he's like, "Well you know what, I can't steal bases here, so I don't even work on it. They won't let me steal." And I'm like "God dog, that's one of your best assets, your speed!" And I said, "You know what, that Albert can't hardly run a lick and he leads the team in steals." "Well, he got the green light. Him and Yadi can go when they wanna go. Everybody else has to get the sign." And I'm like -- it's painful to watch sometimes, because he's a better baseball player than that.

On Colby's role in the Cardinals clubhouse:
You got Albert Pujols, who's one of the best players who ever played the game. And [Colby's] never gonna be as good as Albert Pujols. And neither is anybody else. And I think that people look at [Colby] and go, "He strikes out too much. He does this too much, he does that too much. Albert didn't do this, Albert didn't do that." Well, you know what? Albert's pretty freaking good. And I think [Colby] gets bogged down by some of that: "I'm trying, I'm doing the best I can, but no matter how good I do or hard I try, I'm never good enough." And that may be something he has to deal with. It is what it is.
You've got Albert, who is the consummate professional baseball player -- that son-of-a-gun lives, breathes and eats hitting. And you got Tony, who is the same way. Man, after managing 35 billion baseball games, the guy still takes a loss like it's just the worst loss of his career. The next one is always the worst. Albert's the same way. So, you know, the kid comes in and he probably don't know how to take all of that. I take losses hard too, but we got one tomorrow, so no need to pine over today's too much. It's just kind of learning how to deal with the people around you. And like I said, I think he's figuring that out as he goes. And that's probably been the hardest thing in that situation, is the professionalism and the balls-to-the-wall type of play you see from Albert and a couple of those guys. It's just kind of hard to see where you fit in. And that's probably what he has to deal with a bunch.
On stats versus scouting:
Anybody who's played the game, coached the game, managed the game, and you got some guy behind a computer keyboard with thick glasses on -- and that's the visualization I have when I'm talking to some of these guys on the Internet -- he's never played the game but he thinks he knows more about it than you do. I'm just enamored by it, how I'm gauging this guy's defensive ability by "Range Factor"; I mean, it's awesome. I love listening to all of it, I love reading all of it. I'm just not sure how accurate it all can be. Do I think the stats are meaningless? No, I think they probably have a lot of value. I mean, there probably needs to be a blend. I think, you got a guy that has scouted forever, and to say that his watching a player and recognizing talent is worthless now -- well, that's probably not accurate. To me there's probably a way to use both of them.
I'm just a high school coach. But if they bring in a guy from the computer lab and he tells me I'm doing things wrong based on this computer model he's set up, you know what? You hit the highway, dawg. I'm not going to listen to that crap. You don't know what you're talking about! If you go up to the major-league level, you've probably got similar stuff that goes on. You can argue with the way Tony does this and does that, but he's always been successful. Guy wins year in, year out. And sitting in his shoes, I'd probably have an issue with somebody with a degree from MIT or wherever coming in and shaking up what I've been successful doing.
Links:
"Coaching Spotlight: Coach Tony Rasmus #2 in the Nation Russell County" Perfect Game, 1/4/2005

"2005 High School Team of the Year" Baseball America, 6/13/2005

"One Loss Enough for No. 1 Russell County, Ala." USA Today, 6/30/2005

"Former minor leaguer admits to 'roid use" Steroid Nation, 1/10/2007

"A Very Different Colby Rasmus Coming in 2011" The Cardinal Nation Blog, 12/9/2010