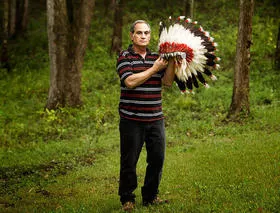 Jennifer Silverberg
Kevin Airis and one of his grandfather's Native American headdresses.
It appears the battle between Kevin Airis and the Saint Louis Science Center, which Airis claims stole 36 Native American artifacts that had once belonged to his grandfather, Thomas Airis, has come to an end. The Missouri Supreme Court decided yesterday to let the ruling of the Court of Appeals, which had found in favor of the science center, stand.
Riverfront Times recounted the entire story, from the Airis family's decision to give the artifacts to the science center for safekeeping back in 1974, in last summer's feature story, "The Case of the Missing Eagle Feathers."
When the Airis family requested the return of Thomas Airis's artifacts in 2008, the science center gave back only eleven pieces. James Houser, the former curator of the science center, said that he had returned the 36 items to Thomas Airis in 1975 and produced a receipt with both his and Thomas's signatures. (Kevin Airis claimed the receipt had been forged.) Kevin Airis sued the science center for $5 million, the estimated value of the missing objects plus interest.
Much to Kevin Airis's dismay, the case never went to trial. The circuit court issued a summary judgment that the Airises had waited too long to ask for their things back; an acceptable statute of limitations was only five years.
At the time, Airis had vowed that if he got nowhere with his legal battle, which had already cost him and his family upwards of $50,000, he would attempt to discredit the science center with the American Association of Museums, a national organization that provides operating guidelines for museums.