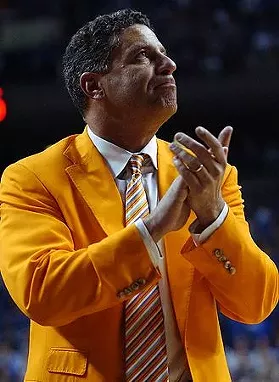 This is the man Cuonzo Martin will be replacing. One can only hope he'll be able to do better at least from a fashion perspective.
You can check
Cuonzo Martin
off your list of potential coaching hires for the
University of Missouri
. The former
Missouri State
basketball coach has accepted a job with
Tennessee
, replacing
Bruce Pearl
,
the chest-painting
,
Erin-Andrews-molesting
,
John Gotti
lookalike who was recently fired for getting the
Volunteers
into hot water with the
NCAA
.
How serious a candidate Martin was for Mizzou isn't exactly clear, but he was certainly a logical answer to the question. A native of East St. Louis, Martin cut his teeth playing in the Big Ten for Purdue, then kicked around for a couple seasons in the NBA. His first coaching gig came under Gene Keady, his old coach at Purdue (Matt Painter, another coach whose name keeps coming up in combination with the Missouri job, was on the same staff), and he became head coach of the Bears before the 2008 season.
He led Missouri State to its first-ever Missouri Valley Conference regular season title this year, though the team failed to receive an at-large bid for the NCAA tournament.

Personally, I think Martin would have been an outstanding option to replace
Mike Anderson
. Plenty of ties to the region, an up-and-coming coach from a smaller school, and a solid record of recruiting at
Missouri State
. Unfortunately, it seems Tennessee saw the same things to like about Martin, with the added bonus that he is, at least for the moment, as squeaky-clean as it gets, reputation-wise. Much like Mizzou hiring Anderson following
Quin Snyder's
ugly departure, Martin is both coach and program panacea, a standup guy to cleanse the pallet after Pearl's slimy exit.
It isn't surprising to see Martin leave; he was one of the hotter names on the market this season after his work bringing the Bears to relevance. Plus, he comes from a particularly successful coaching tree, that of Gene Keady, which has produced Bruce Weber of Illinois, Kevin Stallings of Vanderbilt, Steve Lavin, who had tons of success at UCLA and is now coaching St. John's, and Matt Painter, the current coach of Purdue and possible Missouri candidate. Tennessee made a good call on this one, I believe.
What this might mean to Missouri isn't all that clear. After all, while Martin certainly seemed like a logical fit for the Tigers, their own coaching search is still in the preliminary stages and there hasn't been a whole lot of concrete information out there yet about candidates they're actually looking at, rather than candidates we all think make sense for them to look at. Matt Painter is the name that keeps popping up time and time again, though I personally have a hard time understanding why he would leave Purdue to come to Mizzou. Pudue is both his alma mater and the school where he cut his coaching teeth; it seems to me Purdue would be more of a destination job for Painter than Mizzou. Still, there's enough smoke that we can't rule out a fire, with whispers about Purdue's tight purse strings and Painter's relationship with the AD there being less than stellar.
Beyond Painter and Martin, the list is heavy on dreaming and light on reason.
Brad Stevens
of
Butler
has been mentioned, but why he would leave Butler for a significantly worse job in Columbia is beyond me. Much more likely would be
Ben Jacobson
, the
Northern Iowa
coach who led his team to a win over mighty Kansas in the tournament last year, or possibly
Brian Gregory
, who has done such fine work building
Dayton
into a consistent winner.
(Correction: It now appears Gregory is likely headed to Georgia Tech, so just mentally cross his name out of this article.)
Perhaps Martin was a legitimate candidate, perhaps not. His name made all the sense in the world, but that doesn't necessarily mean anything when it comes to coaching hires. Whether he was or wasn't doesn't matter now; he's on his way to Tennessee, and the Tigers will have to cast their nets elsewhere.