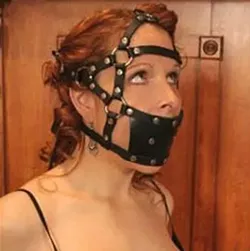 Welcome to Fairview Heights!
Two dozen Fairview Heights residents showed up Thursday to a special meeting called to discuss outrage over a "porn convention" held in the southwestern Illinois town earlier this month.
The event, titled "Beat Me in St. Louis," took place March 18-20 at the town's convention center and adjoining Sheraton Four Points hotel. The organization behind the conference, StL3, is perhaps better known as the St. Louis Leather and Lace, a group that,
according to its website
, "formed in 1997 to meet the needs of a growing BDSM community in the St. Louis metropolitan area."
Beat Me in St. Louis (not to be confused with the organization's annual fall meeting, "Spanksgiving") reportedly featured
sessions on water torture and bondage
and drew a crowd. StL3 rented out the entire hotel and convention center for its members to meet, mingle and -- presumably -- "beat" each other.
But should the convention have occurred at a city-owned convention center?
As the
Belleville News-Democrat
reported last week, Beat Me in St. Louis was still underway March 19 when a city alderman, and political rival of Fairview Heights mayor Gail Mitchell, began passing out fliers to town residents saying that the "porn convention" had the blessing of the city's top official.
Not so, responds Mitchell, who says he was powerless to stop the event under the lease the city had with St. Louis-based Lodging and Hospitality Management (LHM) to operate the convention center and hotel operator. At Thursday's meeting, residents generally sided with the mayor.
Per the
News-Democrat
:
The crowd applauded when Ward 4 Alderwoman Carol Warner said aldermen were using the event as a "political pawn" for the upcoming election.

"We all know there is an election coming up," Warner said. "And I think that is shameful, this witch hunt over the past few days."

Attendees clapped and shouted, "Yes! Yes!"
Frankly, we here at Daily
RFT
agree.
Had those opposed to "Beat Me in St. Louis" really wanted to cause alarm, they should have passed out their fliers not to local residents -- but to the guests checking into the Sheraton Four Points on the Monday morning after the convention.
"Were your sheets changed? You might want to double-check with management. This hotel was the site of a weekend BDSM convention."