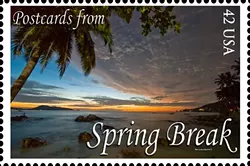 Yes, spring takes a break this week.
We know, we know. St. Louis weather is unpredictable. Still, even Daily
RFT
was a bit amazed by the blanket of snow covering the ground this morning.
We had hoped that winter was in death's grasp following temperatures in the 80s and 70s as recently as just three days ago.
Here's the really bad news, though. We're supposed to get even more snow Saturday night. The National Weather Service predicts up to two to four inches then, and temperatures aren't expected to climb out of the 40s until Tuesday at the earliest.
Isn't March supposed to go out like a lamb, not a lion?