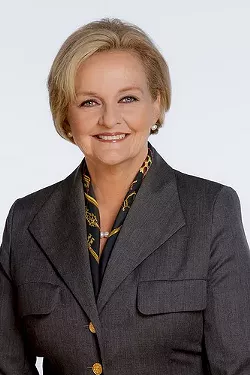 This just in: McCaskill owes more in interest on unpaid taxes than most journalists made last year.
We have to admit: When we heard U.S. Senator Claire McCaskill (D-Missouri) was rapidly cutting a $287,000 check to St. Louis County to make up for
four years of failing to pay taxes on her private plane
, we didn't think the scandal was over just yet.
After all, it had apparently only recently occurred to anyone -- McCaskill (who just happens to be the state's former auditor) or the county (which assesses taxes) -- that there was a bill due. How did the senator know precisely what she owed so quickly?
And, sure enough, the
Post-Dispatch reports today
that the final bill is actually $320,000 -- because, naturally, McCaskill also owes four years' worth of interest.
The interest tally is roughly $80,000, but McCaskill's balance is only $32,000 since she initially overpaid for the actual taxes. We're betting she's going to (again) move swiftly with her checkbook in hopes of nipping this scandal in the bud.
Perhaps the only silver lining for the McCaskill folks in these days of national embarrassment? Craigslist apparently acquiesced to someone complaining about that funny little fake ad purporting to be from McCaskill,
hoping to unload "this damn plane.
" The ad has been taken down.
Cold comfort when you're being mocked ceaselessly across the nation, we're sure. But better than nothing. And certainly better than a $32,000 bill for additional taxes due.