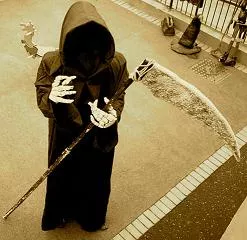 A Census employee works the streets of (INSERT MIDWEST CITY) last summer.
Yesterday St. Louis officials
all but conceded
that the 2010 U.S. Census got it right: The city did lose 30,000 people, or 8.3 percent of its population, over the past decade.
And while there's been
lots of hand-wringing
about what that means for the future of St. Louis and the region, perhaps we can take solace in knowing that we're hardly alone. The 2010 Census is bitch-slapping cities across the Midwest.
Consider Detroit. The Census Bureau this week announced that the Motor City
lost 25 percent of its population
-- 237,000 people -- in the first decade of the 21st century.
Meanwhile, Cleveland saw its population drop by 81,000 people (17 percent) in the same time period. Cincinnati's population shrunk by 10.4 percent. Pittsburgh lost 8.6 percent of its residents. Toledo's population declined by 8.4 percent. Even Chicago lost 200,000 people, or nearly seven percent of its residents.
So, hey, in terms of Rust Belt cities on the decline, we're actually among the winners of the losers. I'm thinking there's a new civic slogan in there somewhere.