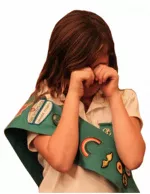 Scandal! Local authorities have cracked down on two lawless rogues operating a high-volume commodities business out of their residence in Hazelwood! The scheming perpetrators were told to shut down their shady practice posthaste or otherwise face a court summons!
Yup, it's true: The city of Hazelwood has told two kids they can no longer sell Girl Scout cookies in their driveway, according to a KMOV report.
The cookie sale, said Hazelwood spokesman Tim Davidson, "violates our home occupancy code, which states that people can't sell commodities out of their home."
See the news clip after the jump.
Our favorite line? "The high-volume people that came by to either buy or pick up their cookies caused some dogs to bark," said Davidson.