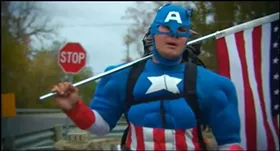 This guy is schlepping through the Show-Me state
So the guy walking from state capital to state capital dressed as
Captain America
has almost reached Jefferson City
.
Why, pray tell? To raise awareness that huge numbers of our nation's veterans are homeless.
Daily
RFT
has news for this
Allen Mullins
fellow. If he thinks gallivanting around the country in a superhero costume is good enough to seduce the media into giving him
free coverage
, he's absolutely correct.