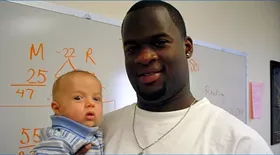 Vince Young holds one of the most famous low Wonderlic scores in recent history, prompting plenty in the NFL to question whether he had the acumen to make it as a quarterback in the pros.
In case you've never heard of the
Wonderlic
test, here's the gist of it: it's a test designed to measure the aptitude of an individual for learning and decision-making. Fifty questions, twelve minutes. Questions get tougher as you go. In short, it's sort of an intelligence test, only not exactly.
Why am I talking to you about this odd test, you ask? Well, because the Wonderlic just happens to be one of the main evaluation tools NFL teams use in scouting potential draft picks. All players at the combine take the Wonderlic, and high scores (particularly at certain positions, like quarterback and offensive line), can help boost a player's stock.
Of course, the real fun isn't in looking at the players who helped themselves with high Wonderlic scores. The real fun comes in looking at the guys who take the Wonderlic test and grade out somewhere between a member of the Porifera phylum and your average Fox News commentator. That's where things really get interesting.
The biggest name for Rams fans to be aware of has to be
A.J. Green
, the uber talented wide receiver from
Georgia
who was been projected since about the middle of his freshman season to be a top ten draft pick. Green scored one of the five lowest scores at the combine, posting a ten. (A 20 is considered to be average-ish intelligence, single digits usually indicate the individual taking the test managed to fill his or her name in correctly.) Wide receivers are not known for especially high scores, but a ten is rather concerning all the same.
We all saw what happened to Mardy Gilyard last season as he struggled to learn the playbook. Now, in fairness to Mardy, there were circumstances which conspired against him, and for some odd reason the Rams had him trying to learn all the receiver positions at once, but the point remains. Gilyard didn't make any kind of impact for the Rams last season because he just couldn't absorb the playbook well enough. And he scored a 17 on the Wonderlic.
Compare Gilyard's experience to what Mark Clayton was able to do upon joining the Rams. I don't know what sort of score Clayton achieved on his Wonderlic, but he's known throughout the league as a very intelligent, cerebral player. He came in at the tail end of training camp, and still managed to have an immediate impact on the team due to his ability to quickly learn the plays and fit into the offensive scheme.
Green may fall a bit due to his low Wonderlic score, but you have to expect he'll still go quite high. And as for any concerns about his ability to learn a playbook, one would hope any team investing a high draft pick would be working him out at the number one spot almost exclusively, rather than overwhelming him with different responsibilities to learn.
In case you're wondering, Julio Jones, the other top receiver in this year's draft, scored a 15. Better than Green, who scored the lowest among all receivers, but still in the bottom 12. Ouch.
​Perhaps the most intriguing low-score player in the entire draft this year could be Patrick Peterson. Peterson is the top corner in the draft, universally considered a top-five talent, and has even had his name floated as a potential number one overall.
Peterson scored a nine. Remember earlier when I said single-digit scores are usually equated with getting your name right?
Here's the thing, though: Peterson is still the most talented, physically gifted, flat-out dominant corner in the draft. The fact he isn't the brightest pixel in the jumbotron doesn't change that. It might, however, change the way he's perceived.
Most likely, Peterson won't be an option for any teams running zone coverage schemes, as those tend to be the more complex, difficult to learn systems. Players have to not only know the play, along with their responsibility on the play, but also have to able to disguise the coverage packages prior to the play. Man-to-man coverage, on the other hand, focuses on a player's ability to match up with an opposing receiver physically.
The Rams happen to be one of the very few pure man-to-man coverage teams in the NFL. They have some zone packages, but for the most part Steve Spagnuolo's philosophy toward cornerback play runs something like this: "See that guy over there? Go cover that guy. Don't let him catch the ball. If he does catch the ball, tackle him. If they run it, go tackle the guy with the ball." Maybe not quite that simplistic, of course, but the vast majority of the scheming in a Spagnuolo defense goes on up front. The guys in the secondary mostly play straight-up against their man.
If Peterson were to somehow drop to the Rams at 14, I think they would almost have to take him. Corner isn't really a need for the Rams, as they have both Bradley Fletcher and Ron Bartell, two excellent players, but Peterson's potential in a man-to-man coverage system is just too high to ignore.
An interesting counterpoint to Peterson is Prince Amukamara, the Nebraska cornerback who scored a 35, which is extraordinary for a player at his position. Then again, that 35 represents a 21-point improvement over his previous score, and anything more than a few point improvement is generally seen as a result of outside coaching on the test itself, rather than a reflection of the player's brain power.
Another player of particular interest to the Rams could be Kendall Hunter, the running back from Oklahoma State, who scored the same nine Peterson did. I don't honestly know how important the kind of intelligence measured by the Wonderlic is to a running back. Vision and decision-making on the fly are both huge issues for backs, but I'm not sure if those things are really reflected in the Wonderlic. Decision-making abilities are, to a certain extent, but even so, football IQ is often significantly different from real-life IQ. Still, I would imagine low intelligence could negatively impact any offensive player's play, given the necessity of understanding and absorbing the playbook.
Whether or not these test results will cause any sort of upheaval early in the draft remains to be seen. Still, with both of the big-time receivers in this year's draft failing to impress with their little grey cells it's certainly not hard to imagine a scenario where one or both of them could easily fall to the Rams. If so, it would pose an interesting dilemma, particularly with the new (and complicated), playbook Josh McDaniels is bringing to town.